Sharon Labi, Investigation and Features Editor – Channel 9 (Nine Network) Sydney News
By Eleanor Burnard
09 September, 2021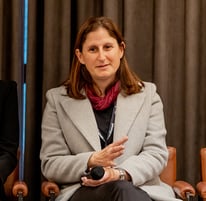 Sharon Labi is currently working as the Investigation and Features Editor for Channel 9 Sydney News, and has been in the media industry since the mid-1990s. She says, however, that working as a journalist was never planned, and she ended up in this career by "default".
"I loved languages and had this fabulous idea that I would become an interpreter and travel the world. I was studying three languages but turns out I was nowhere near good enough at any of them," she says.
"I didn't want to do anything involving maths or science, I always loved speaking to people and hearing about their stories and thought I'd give journalism a try."
Starting out in a community newspaper, Sharon then moved into a job with national newswire AAP which gave her "a taste of everything", from politics, finance, sport, crime, and health. From there, she spent nine years at a Sunday newspaper before moving into television.
"I think my body clock is still messed up from all the shift work over the years," she jokes.
Like most in the industry, Sharon says that trying to keep up with the fast pace of journalism while experiencing COVID-19 lockdowns has been difficult and requires "a little more creativity to find enough vision for a story when you don't have your usual access to places".
"It's a little different working in the office and working from home whilst in lockdown. In the office, we are surrounded by screens so you'll have half an eye on different TV networks, a specially curated Tweetdeck, and be listening-in to different news bulletins throughout the day."
Despite the hard changes that lockdown has brought, Sharon says that the hardest time in her career was trying to consolidate her role as a parent with her line of work.
"The hours were exceptionally long and my kids often woke up with a babysitter and went to bed with one. The guilt was enormous. In the end, I effectively took a backwards step to spend more time with my family."
Sharon's previous role was Chief of Staff at Channel 9's Sydney newsroom. Her current work as Investigations and Features Editor includes a research process that can "involve anything from doing company searches to checking Hansard records". However, she says she relies on the connections she has made throughout her career and "speaking to people and hearing what's happening in their local communities".
"Spotting a tidbit on social media that you can turn into a story or finding a compelling piece of vision that forms the basis of a story. In TV, it's all about the vision," she says.
Sharon explains that her relationship with people is the most important part of her job, and to be "upfront and honest with people and always give each party a right of reply", she presses not to "over-promise and under-deliver" on whatever story is being researched.
"Probably the biggest thing I've learnt over the years is to not get desensitised. You see a lot of crime and you listen to emergency scanners all day describing horrendous incidents but you must never lose your compassion and empathy in this job."
Sharon's pitching preferences:

"If you know me, give me a call. If you don't, an email is great to start with."
To access Sharon's full contact details and social media information, log in to your Medianet account.