Meet some of the businesses we've worked with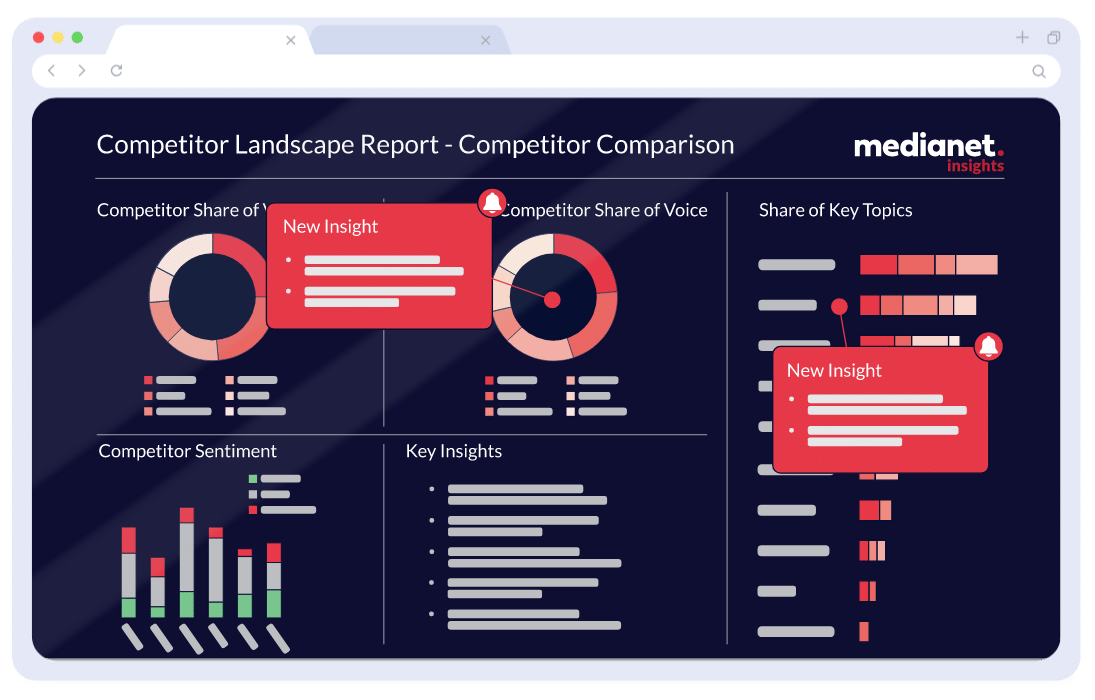 Real insights come from real humans who understand your business and the world around you. Escape the black-and-white world of AI to get the insights you need to enhance your media strategy.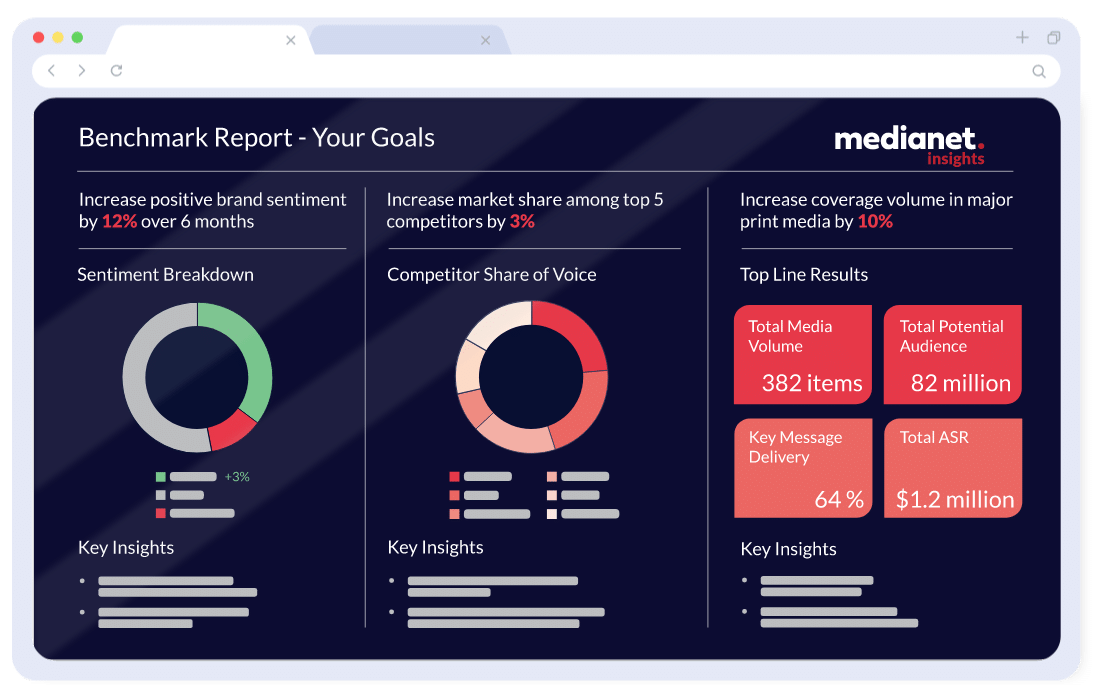 A solution made
just for you
We understand that every business is different. That's why all of our reports are completely tailored to your own goals and needs. No meaningless dashboards, just the insights and data you need.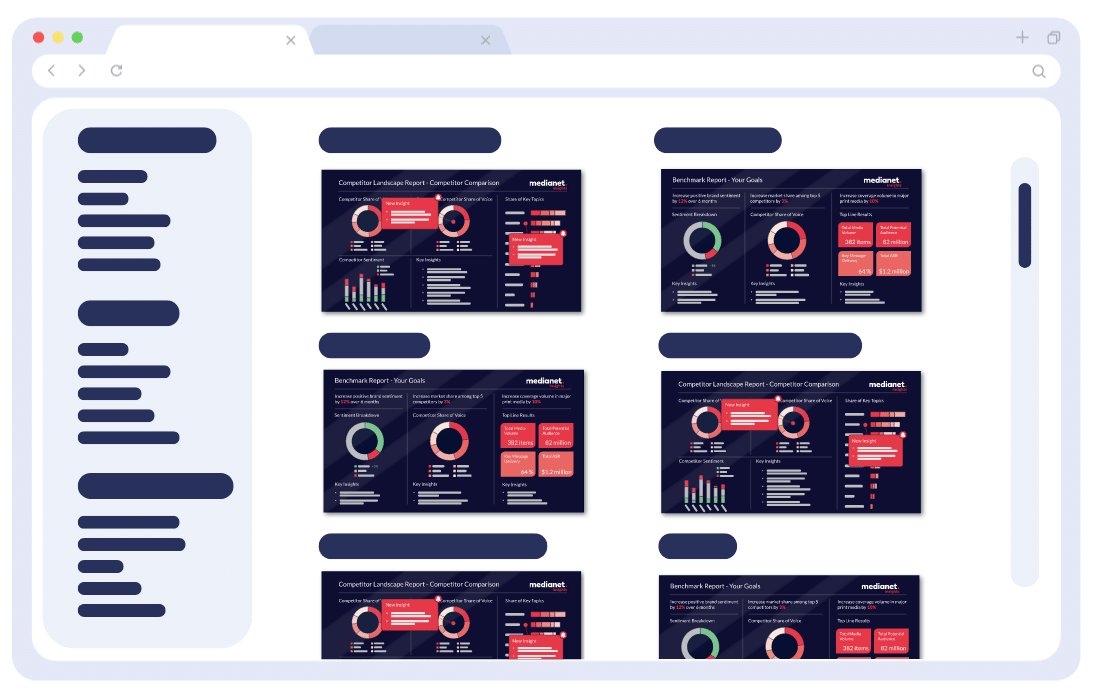 Reports and insights for
every occasion
("

media insights

" AND NOT "monitoring")
Say goodbye to meaningless monitoring data and endless boolean searches.
"Medianet Insights consistently goes above and beyond, constantly suggesting new approaches and methods to ensure the best product possible. They are highly proactive and intuitive, often identifying issues before they cross our radar and offering helpful suggestions and tools."




Manager Media Relations, Major Energy & Resources Company
"Medianet Insights thoroughly understands our analysis needs and has built a weekly reporting framework that is timely and useful for our team strategically and can also be distributed to executive management."





Corporate Communications Manager, Major Australian Financial Institution
"We are a multi-dimensional brand under constant scrutiny and operating in spheres in which we have little control. Medianet Insights' analysis and reporting gives us science. It gives us data. It gives us clarity on our landscape and allows us to measure our effectiveness as a team and direct our efforts to where we can have the greatest impact."


Executive Manager – Strategic Communications, Corporate Affairs
"Having senior management and people within the client-facing businesses understand that social media is an integrated part of our communications arsenal helps change their behaviour for the better. An integrated reporting and analysis model, one that shows social in a similar way to what they have been used to seeing for traditional media, helps this change in mindset."
Head of Corporate Affairs, US-based global bank
"We are pleased to have found a partner in Medianet Insights who are able to reliably and intelligently deliver insights from our media activity. Their attention to detail combined with their ability to turn around requests promptly makes them an invaluable partner to a fast-paced PR team."



Public Relations Manager
"Medianet Insights consistently goes above and beyond, constantly suggesting new approaches and methods to ensure the best product possible. They are highly proactive and intuitive, often identifying issues before they cross our radar and offering helpful suggestions and tools."




Manager Media Relations, Major Energy & Resources Company
"Medianet Insights thoroughly understands our analysis needs and has built a weekly reporting framework that is timely and useful for our team strategically and can also be distributed to executive management."





Corporate Communications Manager, Major Australian Financial Institution
"We are a multi-dimensional brand under constant scrutiny and operating in spheres in which we have little control. Medianet Insights' analysis and reporting gives us science. It gives us data. It gives us clarity on our landscape and allows us to measure our effectiveness as a team and direct our efforts to where we can have the greatest impact."


Executive Manager – Strategic Communications, Corporate Affairs
"Having senior management and people within the client-facing businesses understand that social media is an integrated part of our communications arsenal helps change their behaviour for the better. An integrated reporting and analysis model, one that shows social in a similar way to what they have been used to seeing for traditional media, helps this change in mindset."
Head of Corporate Affairs, US-based global bank
"We are pleased to have found a partner in Medianet Insights who are able to reliably and intelligently deliver insights from our media activity. Their attention to detail combined with their ability to turn around requests promptly makes them an invaluable partner to a fast-paced PR team."



Public Relations Manager
Top