Sheree Everitt, Director of The Great Australian Doorstep
By Eleanor Burnard
13 October, 2021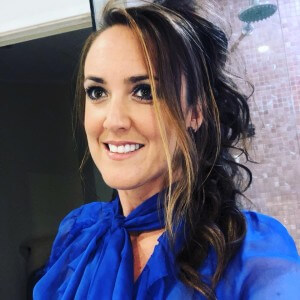 Sheree Everitt is currently working as the Director of Great Australian Doorstep, a multi-level media platform that consists of a global TV show and a national radio program showcasing the incredible destinations across Australia, New Zealand, and worldwide.
She is joined by her husband, Peter, and they have both been in this role since the late 2000s. Her work history as a travel agent and Peter's past AFL career helped "mesh" their experiences together and begin their venture into the media industry.

"We set off in September 2008 with our four little kids, the youngest being 18 months old, in a Motorhome for a seven month trip around Australia to film our first two series," she says.

As a native Kiwi, Sheree explains that both Australia and New Zealand are home to beautiful and unique landscapes and destinations, as well as "some of the world's most powerful and active Indigenous history".

Sheree states her trips to Uluru, Nitmiluk Katherine Gorge, Kakadu and the Kimberley Region were especially poignant.

"It offers so much to all travellers, as well as the mystical and deeply intriguing heritage."

Sheree describes her own Maori heritage as "powerful" and "awe-inspiring", with Rotorua and the Bay of Islands as "two of the best cultural experiences you will ever see in New Zealand".

However, the recent natural bushfire disasters and the ongoing COVID-19 pandemic have left an "ugly stain on our tourism industry", Sheree says, and while they may "capture headlines worldwide", they are not the headlines that are desired for a travel journalist.

"We are so lucky that here in Australia we have such an enormous amount of fantastic destinations to choose from that we could literally film our TV Show forever and never run out of places to visit," she says.

"Yes, we had to change our filming schedule, but there is always a waitlist of other places to visit."

Despite her vast experience of travelling, Sheree explains that finding a new place to explore comes almost entirely from word of mouth.



"I am very old fashioned, I don't look at glossy magazines or social media posts. I am all about first-hand knowledge from the people who know an area best."



Sheree says that she owes her success to remaining strong and confident, and an ability to "roll with the rollercoaster" and learn how to deal with the endless "ups and downs" of an ever-changing media landscape.

"Make sure you are always flexible and always have a Plan B ready to go. Keep abreast of your competitors and always listen to your audience."

Sheree's pitching preferences:

"Emails and phone calls! I don't go looking on social platforms for Pitching. I like things the old fashioned way. I love longevity for all. Everyone has to win, no greedy people allowed.

We have had some of our partners for the entirety of our business!! 14 years! Business partnerships need to be protected, built and tendered to each and every week. No job is too big or too small."