Richard Szabo, Content Director at APRS Media
By Eleanor Burnard
02 February, 2022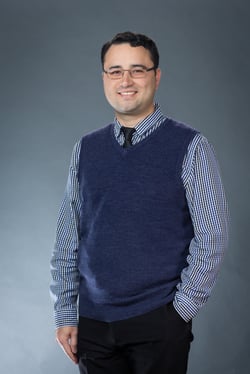 Richard Szabo is currently Director of Content at APRS Media and has been in this role since November 2021. He edits the Australasian Mine Safety Journal (print, e-magazine and online), Queensland Mining and Energy Bulletin (online), and Australian Mining Review.

He also contributes US politics stories to The BL in New York state and previously worked as an Editor, a Deputy Editor, Sub-Editor, Senior Reporter and Communication Manager throughout his career, winning a Gold Coast Media Club MACCAS Award for best business or finance category in 2012.
Richard says social media marketing has become a huge part of his role, as more print media organisations explore digital media revenue opportunities.
"Stories these days aren't just about getting out a certain narrative or raising certain topics, it is also very online traffic-driven."
Monitoring social media and studying what digital content is trending is essential for any media business to survive during the pandemic, Richard explains.
"Publishing viral content that attracts thousands of clicks and a lot of website visits has really helped the business make it through this difficult time."
Richard says "media organisations really rely on social media to generate online traffic," and around 50%, or even more, of their digital engagement comes from social media. The rest would come from organic search engine optimisation, search engine marketing and direct subscription.
During his last year at university, Richard successfully completed internships at major media organisations like Nine News, WIN News and Southern Cross Ten. He describes these experiences as being "valuable in gaining a sneak peek at what the media landscape is like."
Richard revealed that he did not actually start his career in Australia. "My real start only came after contacting some expat media organisations in Budapest, Hungary," his father's ancestral home. He ended up living and working in the Heart of Europe during the mid-2000s.
"It was a very exciting time to report news in Hungary, there was a lot of political and civil unrest … people were protesting in the streets, setting buildings and cars on fire."
Working as a freelance journalist during this time was impactful and, through this experience, he managed to land his first full-time job as International Deputy Editor for Crier Media.
"I landed a higher position than I would have back in Australia because I took that risk and went to Hungary, and I was just there at the right place and at the right time."
When asked what advice he would give to his younger self in this industry, Richard says "keep an open mind" about career options and be willing to work for a smaller media company.
"There are really interesting parts of the job like meeting well-known people and your childhood heroes," he said. "It is also inspiring to raise awareness about the plight of mine workers, the environment and human rights activists in China."
Richard lists his most interesting people to have interviewed as retired Olympic swimmer Kieran Perkins, Lorna Jane fashion founder Lorna Jane Clarkson, Agro puppeteer Jamie Dunn, and former Hungarian Prime Minister Ferenc Gyurcsány.
From there, Richard returned to Australia and continued working in editorial roles for places like Thomson Reuters, iSentia, NewsCorp and Business News Australia.
Richard then joined APRS in 2015 as a freelance contributor and soon began working his way up to Resources & Mining Editor, Communication Manager and his current role as the organisation's Director of Content.
Working in this role during the pandemic has required great patience when it comes to the market "recovery and industry advertisers regaining confidence to pre-COVID levels."
"Our content has always been highly engaging, bringing great traffic to our website … but now we are really starting to see revenue levels return to what they used to be in early 2020."
"It has taken almost two years to recover."
The most challenging part of Richard's job continues to be "finding the right content" for his readers, and he emphasises the importance of story selection.
"It is so important to really understand who you are communicating to, whether it is for digital, print or broadcast media, and deliver information that is really relevant to them."
Richard's pitching preferences:
"To be really told the angle, hook and what's so interesting about the story. All the other information can come afterwards, preferably in the inverted pyramid structure with a high-res photo ready to go."