Sarah Wilson, former Journalist, TV Presenter and Podcast Host
By Serah Lee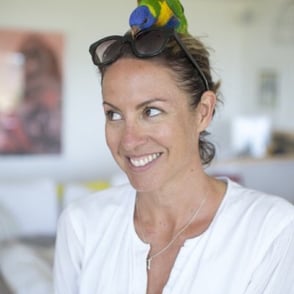 Sarah Wilson is a former journalist and TV presenter, author and activist. She has written the New York Times bestsellers I Quit Sugar and First, We Make the Beast Beautiful. Sarah's latest book This One Wild and Precious Life and her podcast Wild with Sarah Wilson on PodcastOne Australia is a soul's journey through the complexities of climate change, coronavirus, racial inequalities and our disconnection from what matters… back to life.
You can Tweet her at @_sarahwilson_.
From landing her first gig at News Limited as a food and wine journalist to writing op-eds for the Herald Sun, Sarah describes her media journey as no overnight success.
Sarah was 29 years old when she was approached to become the Editor of Cosmopolitan Australia. Having never read the magazine in her life, she moved to Sydney to take up the post.
After four years of leading the title, Sarah's health started to decline, forcing her to go on hiatus. This was followed by the TV hosting opportunity of a lifetime with MasterChef Australia.
"It was a very bizarre sort of circumstances. I was asked to go to an audition and I didn't know what I was auditioning for and I think on Christmas Eve I got a phone call saying I was the host of this new TV show," she recalled.
Sarah took on the show's reins for the first season, before her health caught up with her again to the extent that it affected her ability to work and walk. Coming to terms with the beginning of a "mid-life crisis", she moved to an army shed in a forest outside Byron Bay. It was during this time that she began focusing on her health and launched IQuitSugar, a book turned digital wellness site and anti-waste campaign.
"It started off with a column in the paper and turned into a blogpost. It turned into a series of blog posts and then an ebook, and then a print book. And then it was published in 52 countries around the world and became a digital business," Sarah said.
After skyrocketing to success, Sarah decided to shut down the business in May 2018 to focus on educating and inspiring people in the spheres of anxiety, mental health and activism.
Already a New York Times bestselling author, Sarah published her third book, This One Wild and Precious Life, last year. Her most recent endeavour was a new podcast series called Wild, a discussion about how to live a more meaningful and connected life.
Describing her podcast, Sarah said: "I basically take a wild idea that I've come across in my travels, and it might be a philosopher, a scientist, an artist, a nun, and I ring them, I contact this person and I go 'Can you please deep dive with this' so that we can understand it more fully."
In each episode, she delves into a conversation with her guest about what makes living meaningful and how we can engage more with life in a tangible and practical manner. Sarah's first guest was Australian singer-songwriter Sia, an elusive figure in the media, who she spoke to about managing bipolar disorder and self-medication.
"So I suppose it's a little different to a lot of podcasts because I focus on an idea and I deep dive," Sarah said.
"I feel that that's the kind of conversation we're all craving at the moment."
Sarah attributes the success of her current projects to her multi-platform experience in media across television, radio, magazines, newspapers and online. She credits every role she has held in traditional media with preparing her for the responsibility and processes that are required to work in the digital space in a meaningful way.
"I'm very grateful that I've had that very traditional training and to be honest, I worry about young journalists who aren't going to have that opportunity and also that sort of mentorship of having that really scary Chief Sub who ensures that you've got all of your links and sources of what you've researched," she said.
When asked what advice she would give to young journalists starting out in the industry, Sarah had wise words.
"I would say to study really good writers, and that's what I did. I would read columnists and feature writers and news writers who I admired and respected and I would study the first paragraph of their work, and I would watch very closely to see how they navigated nuanced topics."
"Nobody is born an incredible journalist or writer. It is putting in the hours and that often involves emulating the style perhaps of other writers, but then gradually you develop your own style."
Sarah's pitching preferences:
"A press release has to take all marketing speak out. The best advice I can give to all PRs or any kind of writers or marketers is to actually reread anything you write and ask yourself, 'would I describe this to my friends down at the pub tonight in the same language?' And if not, rewrite it.
"In 2021, the fourth wall is down, we all know how media works, we know how PRs work, let's not block each other down and spin. Spin is dead. The best way that we can communicate is be as upfront as possible and if that means saying 'hey, this is a press release that's really just trying to let you know XYZ'. If that is what the brutal truth of the situation is and it's going to help the journalist get straight to what they need to do their job, then write it as such. Take out the flowery language and save it for the letter to your grandmother."