Alison Piotrowski, US Correspondent and former A Current Affair Reporter at Channel 9
25 February, 2021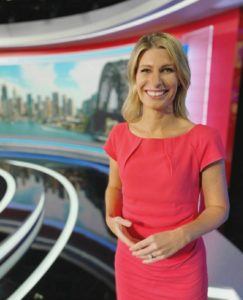 Alison began her career as a DJ at Sydney independent radio station FBI while completing her Honours degree in Media at Macquarie University. Her first big on-air interview was asking Richard Branson for a million dollars to keep the (then) ailing radio station afloat.
Alison worked at 2UE Radio for five years, firstly as a researcher for the John Laws Morning Show, before moving up the ranks to a Senior Producer for Steve Price. She then moved to the Nine Network's A Current Affair and was with the program for eleven years, starting as a Producer in 2009, before transitioning to an on-air role in 2011. Alison has been an all-rounder for the show. Some of her highlights include a series of reports on the Twelve Tribes cult resulting in an (ongoing) police investigation, uncovering an international con woman trying to infiltrate The Block, successfully lobbying the TGA to pull Bufexamac from sale in Australia following a report on severe allergic reactions in some patients, and she was one of the first television journalists allowed inside Goulburn's Supermax prison. She is heading to the United States at the end of February as Nine's new US Correspondent. You can Tweet her at @apiotrowski9.
When did you first decide you wanted to be a journalist?

When the September 11 terror attacks occurred it's the first time I really remember rolling coverage on television lasting for days. I sat glued to my TV for the entire week, just wanting to consume every single bit of information that I could. I was in year 11 at the time and trying to figure out what I wanted to study at university and it was certainly a lightbulb moment for me.
What are you looking forward to the most for your upcoming role as Channel 9's US Correspondent?
The United States has endured such a tumultuous 12 months, so what better time to be a journalist covering their biggest stories day to day? President Biden faces arguably the toughest rebuild of the nation since the Great Depression, and to be able to take a front seat in the audience to see what that looks like will be incredible. On a personal level I'm also looking forward to the challenge of doing more live television. I'm an old radio girl but I actually love the adrenaline that comes with breaking news so I am really looking forward to doing a lot of live coverage in my new role.
You started your role as a Reporter for A Current Affair in 2009. What have been some of the highlights of your decade-long stint?
I actually started as a Producer at ACA before earning my on-air stripes and some highlights included travelling to Singapore to track down convicted paedophile and former Hey Dad star Robert Hughes, and producing special episodes to mark 25 years since the Port Arthur massacre with Ray Martin was definitely a career highlight. In more recent times wearing my reporter hat, we uncovered a cult operating on the outskirts of Sydney that resulted in an (ongoing) police investigation into their operations, revealed that the buyer of last season's winning house on The Block was an international conwoman, and successfully lobbied the TGA to pull Bufexamac from sale in Australia following our reporting on severe allergic reactions in some patients.
You began your career in radio. How does working for television differ from radio?
I started as an Associate Producer for John Laws where my primary job was chasing and booking talent for interviews for his morning radio show. If I could get someone on the phone my job was essentially done. But in television locking in an interview is 5% of the job. Before coming over to television I never understood or appreciated what a collaborative effort it is between reporters, producers, cameramen and editors and how much production is involved in turning around a story. Sometimes it can feel like climbing a mountain… but the emotions that can be stirred from watching a good picture story is second to none.
How has a press release added value to a story of yours before? Or how can they be improved to better suit your needs?
A good press release is brief and to the point, and will always catch my attention if they offer up an expert in their field who I haven't heard from before. In the fast-paced 24-hour news cycle all news outlets at times fall into the bad habit of using the same 'talent' over and over. Finding a new voice on a subject is a breath of fresh air.