Philippe Perez, Senior Journalist CAAMA
By Nell O'Shea Carre
29 July, 2021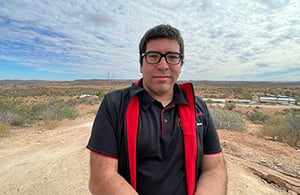 As Senior Journalist at the Central Australian Aboriginal Media Association (CAAMA), Philippe Perez compiles and presents four radio news bulletins every day, with a focus on reporting the issues affecting First Nations peoples both in the Northern Territory and nationally.
Philippe returned to CAAMA in March this year after a two-year stint working in print at The Euroa Gazette.
He says his work now primarily involves conducting interviews, searching for audio grabs, and scanning emails and news feeds to ensure he is presenting the most relevant and useful information to listeners.
"I believe that we're important to our local community because for most people who live remotely in central Australia, we're one of the only sources of news via traditional methods on radio," Philippe says.
"More and more remote communities are accessing things online, and we're trying to kind of go along with the times as well. But accessibility and the digital divide means that radio is pretty much still, I would argue, the number one source for up-to-date news here in the Territory."
CAAMA, which comprises a record label and film production department along with the radio station, is now in its 40th year of broadcasting. The radio network includes broadcasters living in remote communities who present programs in a variety of indigenous languages and report on hyperlocal community news and issues.
Many of these remote communities are still connected to the 3G network, but Philippe says CAAMA will be looking to "evolve" in their digital content creation as internet connectivity improves around the country.
"Young Aboriginal and Torres Strait Islander people who I speak to are becoming engaged on social media and online networks, more than ever before," he says.
"I think that's something that we need to tap into a little bit."
As a news bulletin presenter, Philippe reports on a wide range of stories every day. He says the alleged murder of 19-year-old Kumanjayi Walker and the upcoming trial of NT police officer Zachary Rolfe is one he has covered recently that has particularly impacted him.
"It is a trial that's got a lot of people talking, and there's a lot of anxiety in the community, and passion in regards to what implications this case may have on accountability of police forces here in the Northern Territory," he says.
"There are plenty of deaths in custody stories that I've covered since I came here that have had a profound impact on me, in terms of some of the injustices that have been placed on our First Nations people in the country.
"I think there's a long way to go on that and I think that that's something that major media organisations around the country need to shine a light on."
Philippe's pitching preferences/advice:
Content:
"Be clear and concise in your email. If you can hook me in your pitch within the first couple of paragraphs I would be more likely to take those up.
"I hate attachments, although I know sometimes it's a bit unavoidable, but I would prefer copy to be kept in the body of the email. It would be preferable if you could provide a picture in regards to your story too, so we can accompany our audio on our website, which will be relaunching soon."
Story:
"Something that's topical for First Nations communities is pretty much the most important thing that I'm looking for. Also a realisation that there are communities where I work where english is not a first language, sometimes english is a third or fourth language. That doesn't mean I can't interview academics or anything like that, it just means conversations on our station should avoid jingoistic or complex terminology.
"If you are making someone available to interview in relation to your story, please make someone available who is First Nations. We're an Aboriginal radio station broadcasting to Aboriginal communities, and it's important more of those voices are heard in our media . That's probably my number one thing that I'm looking for."
Considerations:
"If you've got an event or an official announcement, please be aware that I'm in NT time."