Owen Lynch, Host of Dream Homes Revealed coming soon on Nine
By Nell O'Shea Carre
24 June, 2021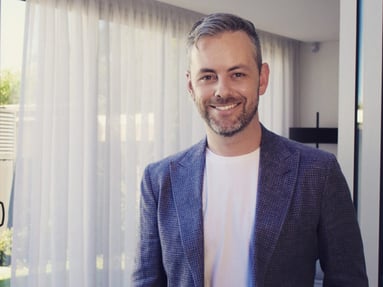 O
wen Lynch describes his career in design and media as a "snakes and ladders" journey.
He has worked across industrial and interior design, consultancy, communications and marketing for design companies, and is now adding TV presenter to his repertoire on Nine's upcoming series Dream Homes Revealed.
No stranger to public speaking and MCing, Owen says the challenge with TV is not standing up in front of people, but bringing "interest and intrigue" to the role and trying to anticipate what audiences will enjoy or want to know.
"Everything I've done to date in terms of media-related work over the years has been behind the scenes, with a brand in front of me, or a person or a profile that I'm promoting. It's been very much about other people and helping to steer that," he says.
"I'm one of four presenters on this show, there's the host [Jennifer Hawkins], numerous producers at our production company, and then the network. There are so many cogs in this thing, so many people, and I'm just one part of it.
"It's quite exciting. At these properties I get sent out to with the crew, it's a sense of discovery for me too. This time, I'm not behind the scenes, I'm not at the boardroom table devising the narrative or casting the homes. I'm out in the field on behalf of the viewer, asking the questions they might ask if they were in my shoes."
As a contributor to Belle Magazine and House & Garden as well as former editor of IndesignLive, Owen has travelled nationally and overseas writing feature articles for international publications, and editing, collating and overseeing content for the online magazines. He says the industry has been drastically changing.
"Once-upon-a-time, whenever big annual events like the Milan furniture fair would happen half the design media would go there, they would visit their advertisers, but they would also uncover new and exciting ideas. They would gather all of this information and come back to Australia, and then within two or three months, depending on their print cycles, you would then absorb all of these amazing, wonderful discoveries from abroad," he says.
"With digital and social media, all of that became instant. Instead of having a nice report two months later in each print magazine, everyone was having to cover things in real-time and publish three, four, five articles per day. It just became so rapid that to fill those gaps, I think a lot of advertorial content snuck in."
"There was this rush into digital where it was all about click-throughs and impressions and in some places, we started to see the editorial process erode pretty quickly … If I'm going to buy your magazine, I don't want to buy a brochure. I'm coming to you for a viewpoint, with editorial integrity."
Magazines around the world have struggled to adapt to changes in the digital landscape, as the future of the entire print industry hangs precariously on steadily declining advertising revenue.
But there's some hope for the industry, Owen says. Despite the massive financial hit much of the media has taken, sales and subscriptions have increased for many lifestyle, homewares and design magazines since the beginning of the COVID-19 pandemic and lockdowns.
"It's really fantastic to see because there's still an audience and a hunger for it, and they want it in print. They want to have that tactile piece of paper in their hands, and they've got more time to sit down and take it in," Owen says.
"With this resurgence in print … I hope that we don't start seeing a rush just to cover international brands and designers, but we also see people championing emerging design from Australia and people doing interesting things, people doing sustainable things, or people doing things that we already like but in new game-changing ways."
"I think that there are so many stories that can be told, and Australian audiences want that to be showcased."