Olivia Ralph - Acting Chief of Staff ABC Western Plains
By Eleanor Burnard
25 May, 2022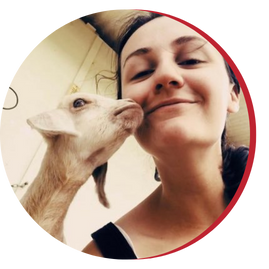 Olivia Ralph is currently working as the Acting Chief of Staff at ABC Western Plains and previously worked as a Journalist and Features Reporter at ABC Rural.
Olivia worked in television and film before she began her career in the media industry.
"I shifted gears because I just love factual storytelling, and I still do. I was working for a film and TV company over in New York and really enjoyed all of the documentaries I had helped out with there."
"I came back to Australia where I was working as a video editor and at a bar, and wanted to get experience working in journalism so I applied to be the sole journalist and editor of this little local paper in outback Queensland."
"Everyone thought I was nuts for moving there, but my philosophy is just always 'why not'? The worst thing that could happen would be that I would hate it, but I didn't and I loved it."
"I worked there for a year and pretty much did everything; I was the reporter, the editor, the ads sales-person, it was the whole shebang!
"It was hard work, and really challenging, but I also met some of my most treasured friends, who I still go back and visit.
"I really fell in love with regional Australia."
After the devastating bushfires in early 2020, Olivia returned to her native Sydney and began to work as a News Producer in television, before starting as a Features Reporter and moving to Dubbo.
"It was such a great team, and there's this thing in the ABC where you are almost constantly playing a game of tetris because everyone is always moving around!

My boss has moved into a temporary secondment and I have taken over his role as the Acting Chief of Staff, so I'm now managing the team that I first joined as a Rural Reporter only a few years ago,"

Olivia says
Describing this as a full circle moment, Olivia goes on to say that it "really follows what I've done for my whole career", which is to always follow the next best option that comes up.
"I don't have a plan for where I see myself in three, four, five years, I just go!
"I always look around and see what's going on, and I always try and say yes to things which is how I end up somewhere completely different, doing something completely different every year. I just follow my curiosity."
When asked about what makes working at the ABC so unique Olivia says that it all comes down to a few specific things.
"It's a cross-platform, media organisation so you are thinking about all platforms all the time, which is partly because of our new media environment being so segmented nowadays.
"You really have to be a jack of all trades, and the organisation is so big that you can really do everything you want to do in the media here.
"I've been able to move into many different roles throughout my entire career, and there's still so much variety here.
I always joke that once you start working at the ABC you're a part of its DNA forever. "
Working at the emergency broadcaster within the centre of bushfires made Olivia work tirelessly alongside her ABC coworkers, making sure to respond and address everything on the ground as fast as they possibly could.
"I never understood what it really meant to be working at the country's emergency broadcaster until the bushfires hit and was part of its coverage.

There was so much exhaustion and fatigue between all of us so we were all constantly moving around to help each other…It didn't matter if you were a journalist working from Dubbo or Sydney, you were sent everywhere to do everything, and to think about everything all the time.

It was a huge collaborative effort under the banner of the ABC, and I really enjoyed working that way with everyone.," she says.
After the bushfires began to die down in early 2020, COVID-19 appeared and ushered the globe into multiple pandemics.
"My team and I were out in western North South Wales, the real coal face of all the outbreaks in Indigenous communities.
"We were constantly working to spread out as much information as we could, it was all hands on deck all the time and was something I had to share with a lot of people."
In terms of big, ongoing issues such as climate change and growing class divides, Olivia says that people living in regional areas are "on the frontlines" and will be the most heavily affected.
"These small communities are the ones who are feeling the effects first."
"I think the main issue is the lack of equitable access to resources that are so ubiquitous in cities; whether it's healthcare, jobs, information, or housing."
Olivia says that if she could go back and give her younger self advice about her career she would say to "take the pressure off", and to rest assured that "everything works out".
"Don't worry when you don't get the thing you think you really want, you'll end up feeling glad you didn't later on.
"If you constantly approach things with curiosity and an open mind you'll find joy in unexpected places, and a lot of disappointment is just preconceived notions not coming to fruition."
"Just follow your curiosity and see where life takes you…What life has in store for you is a lot more exciting than what you think."

Tania's pitching preferences:
"The days of the cold call are now long behind us. Email works best, but please lead with the story, the person, policy, or the topic, and show me why it's compelling."