Interview with Marc Fennell, Host of The Feed (SBS) and Stuff the British Stole (ABC)
10 December, 2020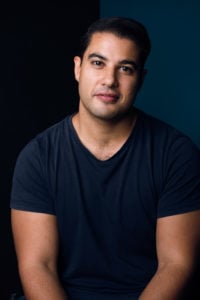 Marc Fennell is a Walkley winning journalist, interviewer, documentary maker and author. Marc has been honoured internationally by The Webby Awards and twice nominated for Europe's prestigious Rose d'Or. He is a recipient of America's coveted James Beard Foundation Award and a gold and silver medallist at the New York Festivals. The Times (UK) declared him to be the "cheerful Aussie version of Louis Theroux". Currently the host of both The Feed (SBS) and Download this Show (ABC), Marc also created the podcast documentaries It Burns (Audible), Nut Jobs (Audible) and the chart-topping Stuff the British Stole (ABC). Fennell has written two books and can also be seen on Network Ten's The Project, SBS's Dateline and filling in on top-rating ABC Radio Sydney.
What are you working on at the moment, and what's next?
I've just wrapped up a brand new podcast series for the ABC called Stuff the British Stole which has had an incredible response – it shot to #1 on the Apple Podcast charts. We're working out episodes for season 2. I'm wrapping up the 2020 season of The Feed (SBS TV) and Download This Show (ABC Radio). Also, I'm starting to develop new podcast series for Audible and doing prep for an exciting new TV project for next year, which I'd love to tell you about but the powers that be would have me kneecapped.
You've launched a few podcasts this year – where do the ideas come from for them, and content-wise how do you manage to do them all?
Yeah, it was a big year. Nut Jobs was a big 8-part series I made for Audible in the USA and we backed it up with Stuff the British Stole and a beautiful interview series for Beyond Blue called "Not Alone"
Honestly, I keep a Google doc which I just fill up with half-baked brainfarts and usually I get sucked into a vortex of research. For every idea I have to evaluate: "Is this a tv story, series, podcast or book?" And there's a lot of ideas that turn out to be dead ends or just actually garbage ideas and I am ashamed of ever thinking of them. Some of them – very few of them – end up working well. But it pays to keep track of the ideas.
One of your speciality areas is tech and journalism. What are the current trends in this area?
Well, audio is clearly in the ascendency. There's so much desire – globally – for podcast content. Personally I'm keen to see if I can take some of the lessons we've learned in Podland and then try them out on TV and visual mediums. That's one of my experiments for 2021.
You're the Creative Director at Media Diversity Australia, who recently launched a directory of contacts for newsrooms. Can you explain how this works?
There's a lot of familiar experts that get put on TV. Talking heads that specialise in finance, tech, shopping, you name it. We're endeavouring to make Australian media look more like Australia as a nation. That means also changing the "experts" so we have helped to build a database of expert talent that is easy for producers and reporters to click through.
You got your start in media as a film reviewer – what is your favourite Christmas movie?
Home Alone 2.
What does a media release need to contain to be of interest to you?
Tell me who the talent is. Do *they* have a story worth telling? Get me interested in them first. All my other decisions will probably flow from that point.