Interview with Alison Izzo – Digital Editor of body+soul and Co-Host of Healthy-ish podcast
09 July, 2020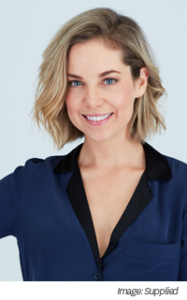 Alison Izzo is the digital editor of body+soul and co-host of the website's Healthy-ish podcast. She got her start in the industry as a fashion assistant for Cleo magazine before becoming the fashion editor of Dolly magazine less than a year later. Since then, Alison has gone on to helm the digital brands of Elle Australia, Harper's Bazaar and Cosmopolitan Australia.
From print to online media, what has been your favourite medium to work in?
I have loved working in print, digital, broadcasting and e-commerce – but I think my favourite space to inhabit is online, but where it intersects with a print title, like body+soul. I really love bringing the power of a print masthead to life on the internet.
Is digital media facing any challenges at the moment?
I think most media outlets are facing some kind of challenge at the moment. COVID has thrown a sharp light on many facets of the industry – with a particular focus on the commercial viability of publications – both print and digital. I think it's also shown us what titles are listening to their audiences, and are able to pivot quickly in order to deliver content that is relevant, useful and engaging.
What is the target demographic of body+soul's Healthy-ish podcast?
The Healthy-ish podcast caters to a pretty wide demographic – basically anyone who is interested in health and wellbeing, but takes their daily kale smoothie with an occasional side of wine and pizza. We aim to educate about how to live your healthiest life, but don't take ourselves too seriously. It's all about balance.
Has the COVID-19 pandemic shifted your workaday in any way?
The entire body+soul team have been working from home since mid-March, and the digital team will continue to do so for a few months still. At this stage, anyway! COVID-19 has had a huge impact on our day-to-day running, but being online we have been lucky that it's been relatively easy to transition to WFH – albeit now with a lot more Zoom meetings. We work similar hours, and our content output is broadly the same – if anything we're publishing more stories each day. We paused the fortnightly recording sessions for the Healthy-ish podcast as it was hard to get all three co-hosts plus our producer in a room, but that has recently resumed, and we're starting to talk about when and how we might return to the office. I think our days will look a lot more flexible than it was before – which can only be a good thing.
Walk us through your process on how you sort through press releases, from what's usable to what's not.
That's a tough one, as it depends on a lot of factors, like… is it a topic that would be of interest to the body+soul online reader, but that we haven't covered extensively already? Is it exclusive to body+soul? Are there accompanying images that would work on our website (clear, bright, landscape, web res)? Is it breaking news? Is this something people are hunting for more information about? Is it uplifting and informative? Is it expert-backed? Is it NOT overly-branded? Would it encourage people to share or tag their friends on Facebook? Is it local? Is it funny? Is there a celebrity angle? If it's a yes to three or more to these questions, it's worth considering.