Tim Nicholson, Editorial Contributor at CarsGuide.com.au
By Nell O'Shea Carre
21 October, 2021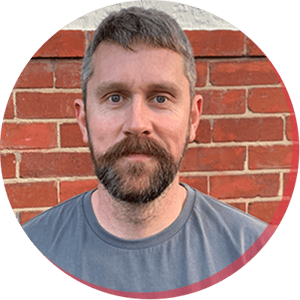 Tim Nicholson spent his 20s working in admin and other projects including some comms for government and higher education institutions, before deciding to try his hand in the media by starting a postgrad course at Swinburne.
Now an Editorial Contributor for CarsGuide.com.au, Tim says his involvement in the automotive field of the media began during a university project when he produced and presented a radio show for the LGBTQIA+ community station JOY 94.9.
"It was all about cars, which was a bit niche, and that got picked up by JOY which was great. Through that I met people in the industry, including some who were also just starting out in automotive media. Long story short, eventually I got pulled into one of those publications, which was GoAuto, about ten years ago I think," he says.
"I didn't do it in the traditional way... it was a bit of a side-door in through radio. Which is great actually, it was, I think, a good grounding for being able to interview people as well — doing the radio stuff."
Tim spent seven years at GoAuto, working his way up from Editorial Assistant to Managing Editor, before being offered a role as a motoring journalist at RoyalAuto (RACV). He commenced in his current position at CarsGuide in September this year.
Tim says his love for cars was passed on by paternal relatives when he was just a young child.
"My grandfather ran a Holden dealership in regional Victoria for many many years, and I think because of that his kids, and their kids, have had cars as a passion. My dad and extended family just know a lot about cars and what's happening in the industry and that passion certainly rubbed off," he says.
"I would apparently from a very young age name the year, make and model of every car we walked past, which I'm sure bored my family to death! It was a bit of a childhood dream job as well, because I'd read Wheels Magazine since I could read, and thought 'oh my god imagine doing that for a job' and never thought I'd actually be able to.
"Even before I was doing this I've always kept an eye on what's happening in the automotive world, and it just got to a point when I was studying, where I thought 'oh maybe I can combine passions', which was being a journalist, as I was just discovering at the time, with the automotive world. And thankfully that happened."
The work of journalists in the automotive field can be far broader than following new car models and products. Tim says his writing also covers all the business and legal news and events in the industry.
"It's interesting, I think some of the more negative things that have happened in the automotive industry in the last five or so years have been probably the most rewarding to cover. And by that I mean the closure of the Ford, Holden and Toyota factories," he says.
"It was a sad occasion for each of the factories to close, because obviously so many people lost their jobs, and there's so much history, especially with Ford and Holden in Australia, and there's so much passion. So to be able to kind of cover that in a sensitive way has been a highlight, and something I'm really proud of.
"Also just looking forward and seeing the transition of the Australian automotive industry away from that, and finding interesting stories out of that has been really fascinating as well. There are a lot of stories to tell, particularly at the moment with the transition to electric vehicles and more autonomous technologies in cars, it's a really interesting time to be involved in the automotive industry."
Tim's

pitching preferences:


"[I like] something that's a bit different. The thing is with automotive is a lot of publications do just end up covering the same stuff, because it's information that's out there. So something that would be kind of unique and would peak interest, again I think certainly around the growth of electric vehicles. I think I'd be happy for pitches related to that kind of emerging technology that we're seeing now, because that's the future."