Interview with AAP Sports Reporter Shayne Hope
By Nell O'Shea Carre
27 October, 2022
​​Shayne Hope is a Sports Journalist for Australian Associated Press (AAP) based in the Melbourne bureau. He was previously a Senior Sports Reporter at The West Australian.
Tell me a bit about your work as a sports reporter... I'm sure no two days are ever the same, but what does your job normally involve?
You've got to be on your toes. AAP's sports department prides itself on providing thorough and engaging coverage of a wide variety of sports, which means we have to be across the news and issues in all the major codes and plenty of the others. A regular week will involve covering breaking news, attending press conferences and filing match coverage. My brief is primarily covering the AFL but I also venture into a host of other sports, particularly over the warmer months when cricket, soccer, basketball, racing and tennis really fire up in Melbourne. The nation's sporting capital is the ideal place to be.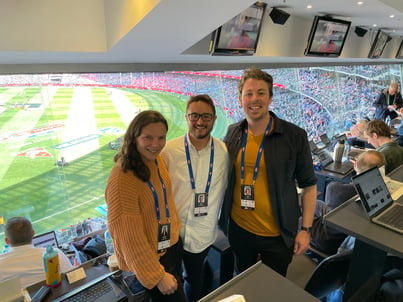 Shayne pictured with AAP colleagues Anna Harrington and Oliver Caffrey just before the start of the 2022 AFL grand final in the MCG press box.
Is there a career highlight or particularly interesting experience from your time as a reporter that you could share? Or perhaps a story you've covered that has really stuck with you?
The global pandemic wreaked havoc in all walks of life and Australian sport certainly wasn't spared. There was a huge amount of uncertainty when the AFL season was shut down in a hurry on 22 March 2020. One minute I was upstairs at Marvel Stadium covering a North Melbourne-St Kilda fixture in front of empty stands, and the next I was downstairs at a press conference where league boss Gillon McLachlan told the football world he didn't know if or when the season would resume. Of course, it ultimately restarted in June, and I was among a group of journalists from various media outlets who travelled from Melbourne to Queensland on assignment to cover the final two months of the competition later that year. Operating out of a base on the Gold Coast, it was one of the busiest periods of my working life. But it was also an unforgettable experience in bizarre circumstances, which culminated in the historic night grand final at the Gabba.
As a sports reporter you would get some pretty unique access to events and athletes — do you have any juicy insights you could share?! Or something people might not know about your work?
Some people are surprised when they learn how tight matchday deadlines can be. For example, AAP's full-time updates at AFL games (about 300-400 words) are filed within a few minutes of the final siren. Then you're rushing down to the changerooms to conduct player interviews and partake in the coaches' post-match press conferences, before heading back up to the press box to file updates and additional articles. Most of our match coverage is filed within two hours.
The changeroom is an interesting place that most fans don't have access to. I'll never forget the scenes after the Western Bulldogs' 2016 preliminary final victory over Greater Western Sydney, which secured their first grand final appearance in 55 years. I vividly recall one former Bulldogs player - who was then an assistant coach - sneaking out into a quiet corridor and breaking down in tears. I'm not sure anyone else saw it but the image of him crouching in the darkness with his head in his hands, overwhelmed by emotion, remains with me to this day.
How do you go about finding your stories? How do you look for a unique angle for a sports article?
It sounds simple - and it isn't unique to the sports sphere of journalism - but news and fresh angles generally come from talking to people and listening. Ask enough questions of enough different contacts and you'll find something new.