PR Profile: Jake Halpin, Publicity Director at MAXCo.Lab
By Medianet
25 May, 2023
Jake Halpin is the Publicity Director at MAXCo.LAB – a creative and strategic
brand building agency that turns ideas into realities with an efficient and agile approach.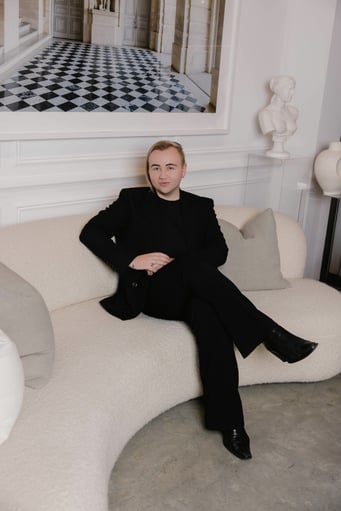 Could you tell me about yourself and your role at MAXCo.LAB?
My name is Jake Halpin, and I am the Publicity Director at MAXCo.LAB. I am based out of the Sydney office of the MAX Network which includes MAXCo.LAB, MAXMEDIALAB and MAXCONNECTORS.
MAXCo.LAB is a creative and strategic brand building agency which re-thinks traditional services and expertise silos. Built on the idea of scalability, agility, and value, we combine thoughtful strategies in bespoke project packages, allowing for rapid changes in brand growth. A laser focus on business needs and opportunities rather than a conventional service menu allows us to foster trust, consultation and conversation that flows both ways.
MAXCo.LAB is where disruptive ideas become creative realities for our clients. While our strategies are always founded in insights and audience intelligence, we match this with an experimental mindset which allows us to bring to the fore new possibilities for future excellence. We believe magic happens when people come together to achieve a common goal. The act of collaboration turns ideas into realities and intentions into movements.
What is your career background, and how did you get started?
I began studying Communications straight out of high school, attending the University of Technology Sydney for a Bachelor of Communications (Public Communications and Digital & Social Media). Additionally, I completed a short course more targeted to the fashion, lifestyle, and luxury industries at a Sydney college to gain a greater perspective on opportunities in these industries.
As part of this college course, internships were a big focus and I completed a range of internships ranging from fashion styling to magazine editorial and finally, in public relations with a boutique agency in Sydney. Starting here, I was offered a position within the agency's public relations division and continued to work in Sydney for the next five years across a range of the world's leading fashion and lifestyle brands.
After this, I lived in London for a year working for global luxury fashion retailer MATCHESFASHION in a social media and content editor role managing the company's menswear channels. Alongside this, I followed a passion for writing and produced a number of editorial articles in a freelance capacity for publications back in Australia including ICON, Fashion Journal, GRAZIA and Pedestrian.TV.
With the pandemic causing widespread instability throughout Europe, I made the decision to return to Sydney in 2020 and founded my own boutique marketing and communications agency, GLOSS COMMUNICATIONS, to offer a dynamic alternative to the typical agency model, with an increased focus on imaginative, creative services and contemporary storytelling for brands and individuals.
Starting in 2023, I have joined the MAX Network as part of the launch team for MAXCo.LAB, working alongside an incredible team of individuals with their expertise in strategy, insights, content, creative and account management to bring a fresh and efficient new offering to the agency landscape in Australia.
What are some of the highlights of your career so far?
I have been very fortunate over the years to have some incredible opportunities with the brands and people I have worked with. Some of my favourite memories are of special travels and launches – from Shanghai and Tokyo to Paris and Auckland – to create one-of-a-kind brand experiences for clients.
I will also forever treasure the overwhelming response to the launch of GLOSS COMMUNICATIONS from friends and peers and the industry at large, including being named one of Australia's top fashion and lifestyle agencies and being nominated for B&T's 30 Under 30 Awards.
What advice would you give someone trying to develop their career in PR/Comms?
There is no right or wrong way to get into a career in PR/Comms. For some, studying and gaining educational qualifications is important, for others, internships and real-world experience is more valuable, for others again, it's some combination of the above. The most important thing you need is dedication, passion, and persistence – and above all, be the type of person you would want to work with.
On a more practical note – read and engage. Read and engage as much as you can. Support the media industry – buy and read magazines, buy and read newspapers, listen to podcasts that give you new ideas, subscribe to the Patreons of your favourite creators, subscribe to newsletters, follow creators on social media.
What's the most valuable lesson/advice you've learnt about work in the PR/Comms industry?
People are far nicer than you think they are. It can be intimidating – especially when you are new or just starting out – to make new connections and meet people. At the end of the day, we are all humans and making positive connections with each other is perhaps the most fundamental part of our jobs. Never be afraid to reach out to someone and extend the opportunity to meet, discuss and connect – you never know how valuable this exchange may be for each of you in the long run.
Could you tell me a bit about a recent campaign or project you have worked on that has been particularly interesting/successful?
Since commencing with MAXCo.LAB, I have had the opportunity to work on two amazing client projects which I am particularly proud of:
1) Heinemann x Sydney Airport, Luxury Precinct Launch: In February 2023, MAXCo.LAB worked with Heinemann Australia and Sydney International Airport to launch SYD X – the new and expanded luxury shopping precinct at Sydney Airport which welcomes nearly 300 of the world's most desirable brands under one roof to set a new benchmark for excellence in the luxury travel retail experience.
We delivered outstanding creative for the terminal launch and afterparty – ranging from an innovative X-shaped ribbon cutting moment to washing The Ivy in signature Heinemann red to mark the occasion. Additionally, we curated the guestlist for the three-part launch event, bringing 350 VIP guests across brand representatives, media guests, celebrities, digital creators, and international stakeholders together to celebrate the most exciting retail launch Australia has seen in many years.
2) LARK 'The Spirit of Whiskmas' Campaign: In 2022, MAXCo.LAB delivered a fully integrated 360 campaign for premium Australian whisky distillery LARK for their annual Christmas campaign, dubbed 'The Spirit of Whiskmas'.
Working across multiple disciplines, MAXCo.LAB led the development of beautiful animated digital assets, an outstanding out of home media buy, a retail partnership with David Jones, off-premises partnerships in four different states and a strong PR campaign which saw the brand achieve the #1 position in their competitive set for share of voice in earned media coverage for the Christmas period in 2022.
What is something about your work or yourself that you think people would be surprised to learn?
I know we joke about this in the PR world a lot, but seriously, it's PR, not ER. I don't like to take life too seriously and believe everything is better if we can sometimes have a laugh and a joke and remember to put things in perspective.
I love my work, I love what I do, and my favourite part is being able to work with an incredible team of passionate, intelligent, and creative people to deliver outstanding results for clients which make an impact and leave a lasting impression… and have a laugh along the way.
Discover MAXCo.LAB online at www.maxcolab.com, on Instagram @MAXCoLAB and on LinkedIn /MAXCo-LAB. Connect with Jake on LinkedIn /jakehalp.