PR Profile: Co-owner and Director of Stellar, Hayley Cole
By Nell O'Shea Carre
27 January, 2022
Meet Hayley Cole, Co-owner and Director of Stellar.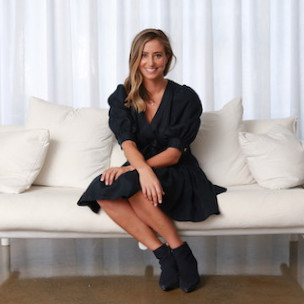 Can you please give me a brief rundown of your background/career so far?
I completed a Bachelor of Design (Fashion & Textiles) at UTS, with a sub-major in Public Relations — so it was an interesting road to getting to where I am now! I went from uni into the fashion world and enjoyed the brand comms side of that, working at then rising Australian brands sass & bide and Willow before finding myself wanting to try my hand at agency land in sectors beyond fashion. That is when I landed at Stellar… and never left!
And how did you become Co-owner and Director of Stellar?
I had worked with Stellar's founder Marguerite Julian for 12 years, working my way up in the agency to Brand Communications Director, then General Manager and ultimately, Co-owner & Director. Marguerite was ready to retire and was eager to pass the baton to people who intrinsically understood the brand and business she had built over its 21 years. This was when Gabrielle Sigelski, my business partner, and I, made the decision to acquire Stellar having already been running it as co-directors for a couple of years. We were passionate about honouring the legacy of the business, while also evolving its service offering so we underwent a brand re-fresh and services expansion almost four years ago now.
What have you found most challenging over the last two years during COVID etc, and how have you/Stellar adapted to this?
COVID has delivered a brutally challenging two years for us, both personally as working mothers of young children and with the high pressure and swift decision making that's been required at a business level to ensure we future-proofed the agency to ride this pandemic out. I am happy to say that we succeeded in our mission to come out the other side not just surviving, but thriving. COVID really impacted the hospitality side of our business, however, we were fortunate to have clients that performed well throughout this period in the home and beauty categories. While it's not over yet, we've bolstered our team with a significant senior hire and with the return of hospitality have experienced huge growth in new business opportunities across that sector.
Tell me about a campaign or project you've worked on recently that has been particularly exciting, interesting or successful.
When COVID first hit Stellar was working with a then-new to market oyster brand called East 33. The initial strategy was a play in premium restaurants and we had signed on partnerships with some of Sydney's top dining destinations to activate the brand with media and influencers. About a week before launch, COVID hit Australia for the first time and we went into lock-down 1.0. The business had to quickly adapt its service model to meet the new conditions and pivoted to a home delivery offering, as an alternative play to launching the brand through its premium restaurant network. Back then the idea of a premium home delivery service in this space was a pretty new and exciting one so that was a great campaign to bring to life across content, media, influencers and social.
What advice would you give to someone just starting out in PR?
You've got to be in for the long haul. PR is an ever-evolving industry and you need to be able to keep the pace of change, be agile and adapt. Don't expect to know it all overnight, or even what areas you're going to really love until you've got plenty of experience under your belt. Do a lot of work experience, and then commit to the roles you take on as the more you put in, the more you'll get out.