Paul Osborne, Canberra Bureau Chief at AAP
By Eleanor Burnard
16 December, 2021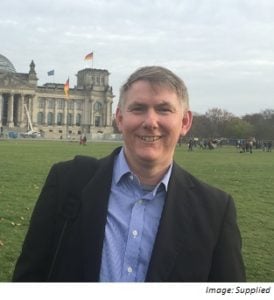 Paul Osborne has been the Canberra Bureau Chief of the Australian Associated Press (AAP) since 2018, after first joining the national newswire as a reporter in 2000.
Working at AAP for almost two decades now, Paul says the media organisation is unique for its independence.
"We are straight down the line. We tell the story as great as we can," he says.
"We don't have any particular commercial or political pressures on us, we are just a straight news service."
AAP was first established in 1935, and was until recently owned by three Australian news organisations, Nine Entertainment Co., News Corp and Seven West Media. In August 2020 it was sold to a consortium of impact investors and philanthropists.
Paul says the agency is still adapting to suit its audience and their changing interests, and has changed, along with the wider media landscape, "quite dramatically" throughout his career.
"In my first job we were still using electronic type-writers," he says. "And we just got the first model of the Mac computer."
"Nowadays, newspapers are all digital, and we are no longer cutting with knives or blue pencils."
"We are now steering towards public interest journalism, which incorporates more social responsibility with our reporting."
He credits the internet as the biggest instigator of change, along with subsequent development such as paywalls and social media.
"That has really transformed the instantaneous-ness of news and information, and really put pressure on the news market and traditional media players."
"[If I could go back in time], I'd try and get my head around that digital space, and it would probably put me in a greater understanding of it all today."
Despite these digital changes, as well as the impacts of the pandemic, Paul says that face-to-face communication is still as vital as ever.
"The stability and unity of our AAP community has been hard, and just sitting at home on your computer without seeing anyone was an ongoing challenge."
"It was a very uncertain time for everyone."
Paul's advice for anyone wanting to start or already in the media industry is to be able to tell a good story, and to always write with integrity for your audience.
"You have to be good at translating a lot of complex information into something simple," he says.
"A good rule of thumb is to always think of your average reader, what you would tell your mum or uncle, and what would you say to convey this story to them in a comprehensive and compelling way."
"You should always be ethical, and build good relationships with your sources."
Paul explains an early interest in journalism and his admiration for political journalists helped inspire him to start a career in the media industry, and lists Laurie Oakes, Michelle Grattan, and Alan Ramsey as most influential in this decision
"They are real legends of political journalism, and I appreciated their insight and writing even as a teenager."
"I've always been a newspaper reader, even when I was a kid."
Paul's pitching preferences
"Please email first and then a follow-up with a phone call always helps, just make it short and sharp."
To access Paul's full contact details and pitching profile, log in to your Medianet account here or click here to sign up.