Pollies and koalas: what we talk about in times of crisis
For the past three weeks, the Australian media has been dominated by reporting on the Australian bushfire crisis. Those of us fortunate enough to not be immediately affected have still felt horror as the fires have raged across the country. The public's initial reaction to the crisis was united in its support and praise for the emergency services workers. However, it didn't take long for the discussions to shift focus.
Mediaverse had a look at the social media conversations around the bushfires to gain a better idea of the issues and stories people are most concerned with.
The table below shows a list of prominent themes we identified in relation to the bushfire crisis. What does the data tell us?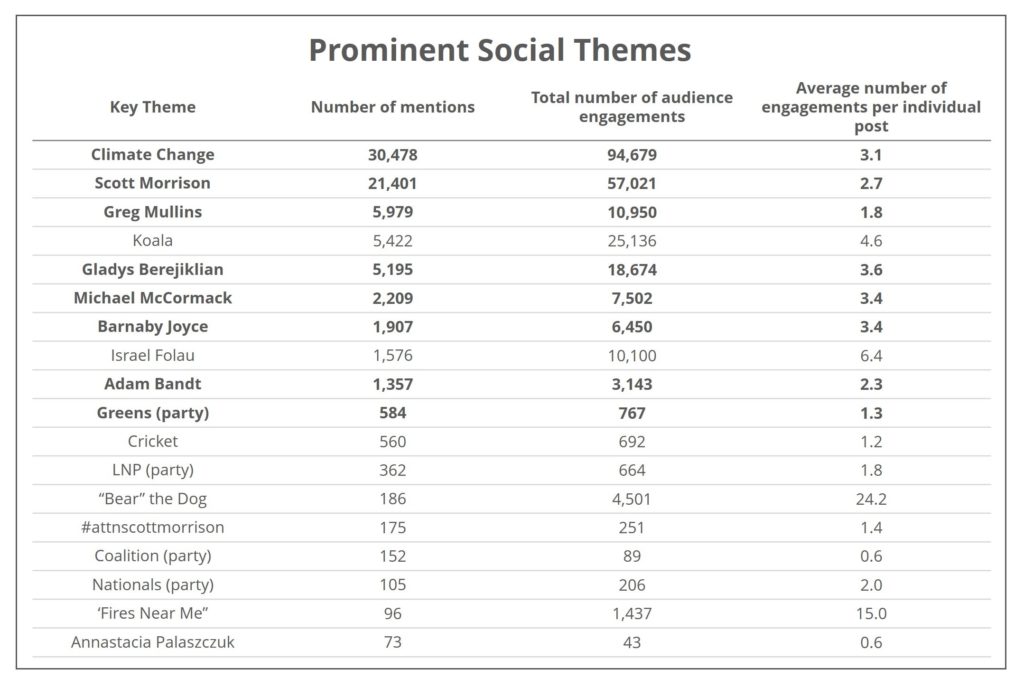 People want answers
When looking at this data, eight out of the ten leading themes in terms of the number of mentions in social media discussions were related to climate change or politics. The words "climate change" overwhelmingly dominated. The phrase was mentioned in more than a quarter of the 112k social media posts throughout the period.
Prime Minister Scott Morrison was the most mentioned individual, followed by former Fire and Rescue NSW Commissioner Greg Mullens. Other key leaders garnering high levels of mentions were NSW Premier Gladys Berejiklian, Nationals leader Michael McCormack, and Nationals MP Barnaby Joyce. Also featuring in the list, though in lower volumes, were federal MP Adam Bandt and the Greens party. The level of audience engagement also reflects the sentiment and focus of the public around the fires. Berejiklian, McCormack and Joyce all generated high levels of audience activity compared with Bandt and the Greens.
These results indicate the public's desire for answers. People wanted to know how this could happen, who was at fault, and how we can prevent the crisis from happening again. Perhaps this explains why the LNP was so over-represented in this list, as they were looked to immediately in both traditional and social media, to answer these questions. They were then blamed for not having any answers and pointing the finger elsewhere.
We all need our heroes
On the other hand, there was also a clear inclination to celebrate the heroes of the bushfires. Another leading theme was "koalas", which garnered more mentions than Berejiklian, McCormack and Joyce. Many of these mentions included news of destroyed koala habitats and calls for donations to koala refuges. But we also loved the tales that tugged on our heartstrings, such as the story of Port Macquarie grandmother Toni Doherty who saved a koala fleeing the bushfires across the road. The recent passing of "Lewis" the koala was met with widespread sadness.
The data also shows a sense of hope and gravitation towards the "feel-good" stories. Anecdotes of firefighters helping to save people's homes and businesses poured in and went viral on Twitter. A tweet with a letter from firefighters who drank some milk from a house they had saved was eagerly shared by the public and was even picked up by national media outlets.
Australia bushfires: 'We owe you milk' say firefighters who saved man's house https://t.co/wbTPWG8heX

— BBC News Australia (@BBCNewsAus) November 12, 2019
Similarly, despite a lower volume of mentions, "Bear" the dog trained to identify and rescue koalas also gained huge traction on social media in terms of audience engagement. These results demonstrate our desire to share content that warms the heart during a crisis.
So what does this all mean? Social media is a space where you see emotions run high in a time of crisis. Conflicting and competing views mix in together. But one thing is clear from the data, although stories of goodwill gain traction, concerns around climate change are not going anywhere.
Image: AAP Image/[Dan Himbrechts]. Supplied by AAP Photos image library.