Sport and social media: an uneven playing field
23 July, 2019
July has seen a flurry of major sporting competitions flood our TV screens around the clock. Six major sporting events have been running throughout the month – Wimbledon, the men's Cricket World Cup, women's Ashes series, Netball World Cup, Tour de France and Australia's very own State of Origin. For the sports fanatics among us, it has provided some exciting moments and sleepless nights. But which event sparked off the most social media chat?
Mediaverse ran the numbers for the past 30 days to see which competition got us talking the most.
So who won?
The charts below show the Share of Voice for each competition measured first by volume of posts and then by engagement.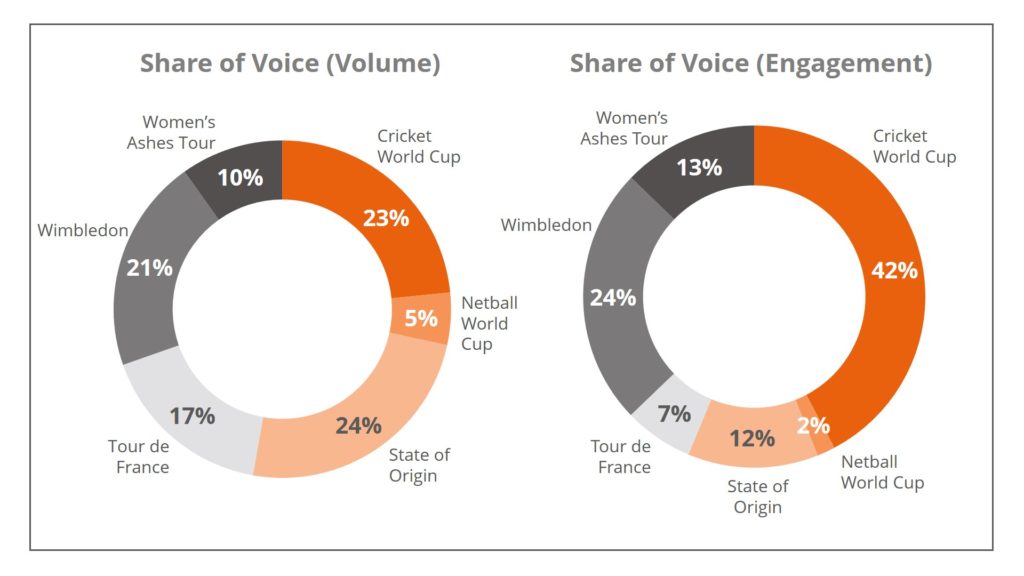 State of Origin drew the highest volume of posts of all competitions. This could be because it was the only local sporting event in the group and as a result was broadcast at a reasonable viewing hour. But, it is also the only event that pits state against state with the winner claiming the ultimate bragging rights.
When we looked behind these top line results though, what we found was quite interesting. World number one tennis player Ash Barty was decisively the most prominent of Aussie stars to be referenced across all events, with her name appearing in over 5k posts and generating almost 30k engagements. She even outperformed high-profile (and controversial) stars David Warner, Steve Smith and Nick Kyrgios. This result might come as no surprise after Barty was the favourite to win Wimbledon, but it's good to see that the "nice guys" of sport still get traction.
Turns out cricket isn't dead just yet
While State of Origin won in terms of the sheer number of posts, actually the Cricket World Cup was the leading event in terms of engagements, followed by Wimbledon. State of Origin content mainly included calls of support for both teams. The Blues dominated, with the victory hashtag #UptheBlues drawing more hits than #Origin or #StateofOrigin.
Rather than simple celebratory posts, Cricket World Cup activity covered a range of themes including results, individual player shout outs and analysis of the team's performance. This created high engagement and social discussion.
In a similar vein, despite having a quieter social media presence than the men's equivalent, the women's Ashes series was still formidable, and actually also scored higher than State of Origin in terms of engagement. Ellyse Perry received strong traction, her name being mentioned 1.2k times and generating 12.8k engagements, which was higher than her male counterparts Steve Smith, Mitchell Starc and Usman Khawaja.
Cycling and netball are just more niche
In terms of engagement, the Tour de France and Netball World Cup had the fifth and sixth Share of Voice. These results reflect the fan bases of the cycling and netball communities, which are smaller and much more specialised. Conversations around the Tour de France also featured a lot of "in jokes", references to former cyclists, races and commentators and hashtags that weren't as obvious such as #FRATL (First Rider Across The Line) and #couchpeloton.
An uneven playing field
Comparing these six distinct sporting events isn't an exact science. The "winner" on social media really depends on how you view the results. When factors like engagement, user audience reach, individual versus team performance and fan demographics are taken into account, it's not an even playing field.
However, it's interesting to see that different sports attract different kinds of interaction on social. State of Origin generated a high volume of one-way posting while the Cricket World Cup attracted far more conversation. Perhaps the kind of interaction is reflective of the nature of each sport and their fan bases. Even so, the celebrity factor adds another layer and speaks to the power of the individual in capturing the attention of the Australian public. The rise of women's sport is also clear – how might the results change a year from now?
Image: AAP Image/Dan Himbrechts. Supplied by AAP Photos image library.