Lockdown activity ideas and inspiration from the Medianet team!
By Nell O'Shea Carre
25 August, 2021
With much of the country in lockdown and bleak stories dominating the news headlines at the moment, it can be hard to stay motivated and upbeat. In the spirit of 'getting through this together', we thought we'd share a little insight into what some of the Medianet team have been getting up to in Sydney and Melbourne recently. Hopefully you might find inspiration for a fun little activity, but if not there's always Netflix — we're not judging!
Russell: Our new Editorial Assistant Russell Armour (formerly a much-loved member of the research team) is currently prepping his indoor plant babies ready for spring (ok Mr motivation…). Russell recommends checking out an art gallery online at Arts Projects Australia, Art Almanac, NGV or the 2021 Archibald Prize virtual visit at the Art Gallery of NSW.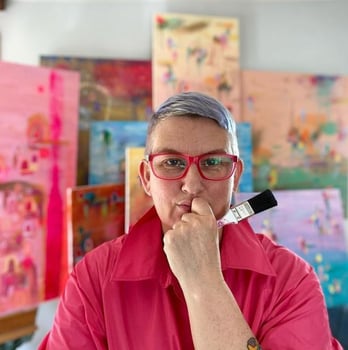 Claire: Our PR Business Manager Claire Cassey says she's been listening to the latest Billie Eilish album ("who knew her and Finneas could get even better!") redecorating her house decor and working on some large scale canvases.
Claire is our resident artist, creating amazing textured, abstract works when not in the office. If you've ever had the pleasure of meeting Claire in person, you won't be surprised by her love of colour given her funky hair styles!
Have a read of our interview with Claire from earlier this year to find out more about how she applies her creative talents to her PR work.
Ritika: Account Manager Ritika Gambhir has been staying active in lockdown by practicing yoga — "the best exercise for mind, body and soul". Her favourite is the universally loved Yoga with Adriene — keep an eye out for a guest appearance from blue heeler Benji.
Ritika also suggests redecorating your home with some spring essentials if you're looking for some way to keep busy.
"Adding pastel colours, swapping heavy blankets with breathable fabrics to make your house look fresh and airy," she says.
Shannon: Marketing Manager Shannon Smith has found the free app Workout for Women to be a great substitute for the gym, and also suggests looking at these other fitness options reviewed by Marie Claire if you need more inspiration for facing the challenges of staying active in lockdown.
"Getting crafty and pausing Netflix can also keep the mind active — pottery, paint-by-numbers to name a few," Shannon says.
"I found some great ideas from this Concrete Playground article."
Bryan: A self-described foodie, Account Director Bryan Bugaoan says he has been spending a lot of lockdown time reigniting his passion for baking (with scones being his most recent creation).
"I absolutely recommend following Nigella Lawson create some delicious treats that are easy to replicate at home. Sometimes, all you need is a 'mee-cro-wavee'," Bryan says.
"The process of baking and her narration can put anyone at peace!"
Eleanor: Eleanor Burnard is part of our team of researchers based in Melbourne and Sydney, who provide the backbones of all the features and information included in our PR software. Eleanor says she's been spending more time on Instagram and Pinterest and getting more into still-life photography.
"I love taking photos of flowers, plants, and anything I find pretty and interesting! A photographer I find really inspirational and love to emulate is Doan Ly," she says.
"I'm also a huge fan of movies, and using Letterboxd allows me to rate films, discover new ones and connect with movie buffs from all around the world."