Josephine Huynh, Editor at Domain Prestige
By Nell O'Shea Carre
16 September, 2021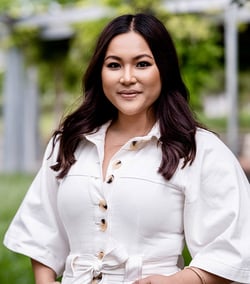 Josephine Huynh launched her media career with a move to Canberra to study journalism in the hopes of becoming a political reporter.
But the newly appointed Editor of The Sydney Morning Herald's Domain and Domain Prestige publications says it didn't take long to realise that politics wasn't the beat for her. She has now spent 10 years as an Editor and Writer for various Canberra home and lifestyle magazines.
Josephine says her passion for home and property developed throughout her career and as part of changing lifestyles as she grew older.
"When I first started I was really chasing fashion, lifestyle and food, because that's what I loved. And don't get me wrong, I still love it! But also now I have an appreciation for homewares, and as your life changes, your interests change, and my career has just formed along the same vein, in parallel," she says.
"I found that it was a time in my life where I was looking to buy my own property as well, and what better space to actually flex what you know than if you're actually in the industry producing work about it. So I found it to be really valuable to my personal life as well as my professional life."
Josephine also credits her parents with imparting some of their commercial sense to her from a young age.
"Both of my parents were refugees after the Vietnam war, they came over, they didn't really know how to speak English, so what they did was they worked in cafes, and they'd get those businesses up and running to the point where they had enough money to buy the building, and that's what they did when I was younger," she says.
"They've always been property invested in the commercial side. Not very glamorous though, like the buildings that my mum and dad own are very stingy and rural and they house a lot of commercial kitchens and things like that."
"But property and commercial [investment] was a way that they were able to assimilate into the Australian culture I guess when they moved over here from Vietnam."
Unlike The Canberra Times' Allhomes where Josephine has worked for the past four years, both Domain and Domain Prestige are print publications only.
"To be able to get into a space where I only have one platform to work with and hone all my inspiration and my thoughts and my energy into making print as best as it can be in a digital age, I think that's going to be a challenge but at the same time it just means that I can pour my heart and soul into bringing these stories to life on the page," Josephine says.
"I really think that when you interview someone or you write a story, sometimes with online it has the sense that it's expiring quite soon, because it will be on the website for an hour or two perhaps and then it just goes into some sort of archival system.
"But I always loved the print aspect of collecting the magazines, and turning the pages and seeing the colours and the images splash out in front of you."
Josephine's pitching preferences:
"Where PR people have high resolution images at hand, we'd always have a look at those first. Likely what happens is we would use supplied images, and if there are gaps that need to be filled we would book our own photographer for that.
"What Domain magazine really looks for are properties that just pop. So anything on the market with amazing imagery. We also have sections of the magazine that don't need to be homes that are up for sale, they can just be amazing architecture homes in Sydney, it could be a neighborhood that has seen a lot of growth or a lot development and gentrification in that area, and now it's just kind of like the hot new hipster place to live. We love to sell the lifestyle, so any stories to do with the lifestyle of suburbs in Sydney we love. Anything to do with up-and-coming designers in the property or interior design space, even if they've created a cool chair for example, we'd love to profile them and perhaps even feature their chair in one of our interior photoshoots.
"Anything really stylish, high-end or up and coming to do with homes and people in the property and real estate industry, that's really something that we strive to showcase in Sydney in the Domain magazine. Then for Prestige, it's quite similar but the lens is seen through a national perspective."
To access Josephine's full contact details and social media information, log in to your Medianet account here or click here to sign up.