Interview with Neroli Meadows, Presenter at Fox Sports News
13 March, 2019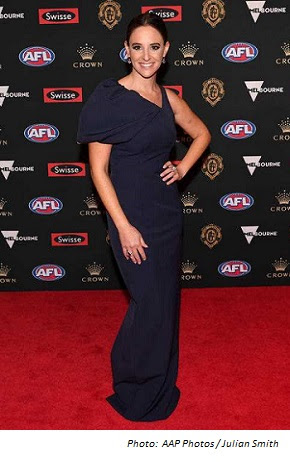 Neroli Meadows is a Fox Sports News and Fox Footy presenter in Melbourne, joining the network in 2017. Prior to Fox, Neroli began her career in sports journalism as the weekend sports producer at 6PR Perth before moving to Channel 7 Perth where she was a sports reporter for four years on Today Tonight. In 2018, Neroli began co-hosting duties on Fox Footy's On the Mark program, alongside Sarah Jones and Kelli Underwood. Neroli Meadows's Twitter handle is @Neroli_M_FOX.
What skills are most important for the area of journalism you're working in?
Outside of the obvious of having a passion for sport, I think the most important skill is actually listening to people. It's important to build relationships and not be afraid to ask tough questions when they need to be asked.
In your opinion what makes a great sports story?
Many people would say scandal and controversy, but I love telling the stories that made me fall in love with sport as a kid. Stories of overcoming adversity, mateship and how sport can reveal a lot about a person and influence others. When I was a kid, I wanted two things from an interview – insight to the sport/game/situation and to get a feel for their personality (people want to know whether they like the athlete or not!). That's how I approach interviews now.
How do you think sports journalism has influenced sports in Australia?
It has had a massive influence. I wouldn't be surprised if there were more AFL reporters than political reporters in Australia right now (let alone reporters across all sports!) There is an unprecedented amount of scrutiny and pressure on athletes. With the rise of the internet – there is also a lot of pressure on journalists to get the story out first, rather than craft it. The public is in a hurry to consume the latest news. It can lead to fairly precarious situations. Particularly with social media – everyone now has a platform and (too often in my opinion) legitimate news outlets use a handful of tweets to generate a story. Everyone has smartphones – so everyone is a video journalist and unfortunately, a lot of people are keen to try and catch out athletes. My approach to journalism is that I try to be a human first, journo second and they're humans first, sports stars second. It helps me consider how and why I report on a story.
Given the competitive nature of sports journalism, how do you bring a fresh angle to your reporting?
I have never considered myself a news breaker. I always wanted to tell stories, not necessarily break them. I see my take on sports journalism as a more long-term approach… when an athlete is ready to tell their story, I like to be the person they trust to tell it.
What are the keys to being a good presenter on air?
Always remember it's not about you. My job is to tell the news and stories to the best of my ability so that people sitting on their couch at home get the best, most accurate and entertaining summary of what they need to know. I always said my job is to go and ask the questions that my Dad (a mad West Coast Eagles supporter) wants to know the answer to but he's too busy saving and impacting people's lives as a doctor. That's always what I want athletes and coaches to think too… I am just the middle-man to get the message from the clubs to the fans.