Interview with Ben Groundwater, Travel Columnist at Fairfax Media
20 February, 2018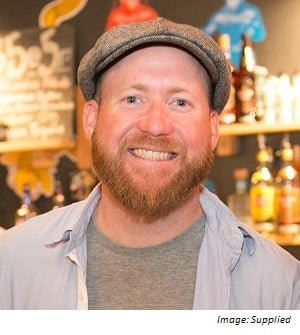 Award-winning travel writer and columnist, Ben Groundwater is a regular contributor to Fairfax newspapers and websites, writes features for numerous travel and inflight magazines and Lonely Planet publications. Ben is also the host of the travel podcast 'Flight of Fancy', available now on iTunes. His Twitter handle is @bengroundwater.
How did you get into travel writing?
By quitting my job, and having my heart broken. I studied journalism at the University of Queensland, then started working for a small magazine called Brisbane News, as a feature writer and food reviewer. I eventually quit that job with the idea of travelling for a year, though those travels were cut short when I met a girl and fell in love and moved back to Sydney. That beautiful romance lasted all of about two weeks. However, it did allow me to land a job as a casual sub at The Sydney Morning Herald, which allowed me to meet people on the travel desk, pitch an idea for a travel blog called "The Backpacker", and the rest took care of itself.
What is your favourite travel hack of all time?
I actually don't think I'm very good with travel hacks. I still over-pack. I buy useless souvenirs. My tips for sleeping on a plane, though, would be eye mask, earplugs, and melatonin (a natural-ish sleeping aid available over the counter in the US and Canada). My tips for avoiding jet-lag are to exercise before and after the flight, drink plenty of water on the flight, and if you're feeling droopy-eyed when you arrive in your destination, find some friends to go out drinking with and just power on through until 10pm or so. Then make use of your melatonin again.
From your travels, do you have a secret hideaway spot you would rather not share with your readers, and if so, what is it?
Ha, I actually have a few secret hideaway spots that I annoyingly keep telling readers about over and over again, I guess because I love them so much. It needs to stop. Anyway, my absolute favourite place in the world is San Sebastian in northern Spain, which is pretty much like Foodie Disneyland, with added beaches – don't bother going there. There's also a restaurant in Rome called Da Cesare al Casaletto, just a normal old trattoria in the suburbs, that people should definitely not visit. And there's a yakitori place in Tokyo called Fuku that I would avoid.
What is the most surprising thing you've learnt on a work trip?
That some people are able to find a way to complain about pretty much anything. I've travelled with a lot of fun, interesting people, but I've also travelled with people who seem determined to have a terrible time while they're away from home. That sort of mindset always surprises me.
When a press release travels to your inbox, what determines whether you open it or not?
If it's addressed to me personally ("Hi Ben," etc, rather than, "Hi there…"), I'll know there's more chance it will relate directly to the sort of things I work on. Also if I recognise the name of the sender I'm more likely to read and respond.