Interview with Andrew McKinnon – Surfing Columnist at The Gold Coast Bulletin
20 August, 2020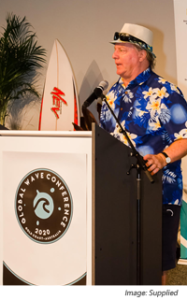 Andrew McKinnon writes the Surf Scene column for The Gold Coast Bulletin which features news and profiles of upcoming surfing champions. Andrew is a former World Longboard Champion (1988) and has been working in TV, radio, and newspapers for the last 30 years.
Tell us a little about how you got to be a surfing columnist?
My first gig was writing for the Northern Star newspaper in Lismore in 1981. Barry Cheadle was the sports editor and a surfer himself who was super supportive. The editor Jim Brigganshaw paid me $10 a week! It was an exciting time with the new era of professional surfing emerging and covering the local surfing champions and industry identities.
How do you prepare for your workday?
I keep updated with the local happenings, up and coming groms, and any unique events that are Gold Coast-based with global interest.
What story has been your favourite to work on so far this year?
The latest Surf Scene story on high school women's Indigenous champion Latisha Clark was inspiring. Latisha has Torres Strait Island heritage and is proud of her culture. She's a level two coach who also champions women's roles and wasn't afraid to surf shark-infested waters in Fiji.
How do you gather research for your stories?
I continually watch social media platforms to pick up on the latest news and contact local clubs for information on up-and-coming champions. I am connected with press releases via emails and the internet, but I like to write my own angles rather than copy a press release.
For a press release to stand out to you, what should it contain?
Most surfing press releases have access to photos, which is handy if obtaining photos is a problem. A press release needs to have good quotes and contacts for following up on a story. In surfing there is never a lack of content to cover. Despite contest shutdowns due to the pandemic, the waves have been pumping in the lockdown period and the surfboard industry has been experiencing a boom. Surfing is a mix of lifestyle sport and culture with conservation values which makes it so unique to write about.