Meet 11-year-old Sports Journalist and Magazine Founder Abbie
By Nell O'Shea Carre
08 June, 2022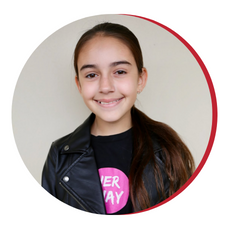 11-year-old Abbie is an unlikely pioneer in the world of sports journalism.
Having noticed a gap in the Australian media for a magazine solely focused on women's sport, Abbie decided to take matters into her own hands and is now the Founder, Editor and Writer of the monthly publication Her Way magazine.
Now up to its 8th edition, the magazine has featured interviews with high profile athletes such as Jess Fox, Cate Campbell and Maddison De Rozario.
"In sports journalism and reporting it feels like the men have always been the top priority. They've always been on the front cover of magazines or they've always been on the main channels on TV," Abbie says.
"I realised this was happening, and I was like 'this isn't fair, why wait until I'm older, I can change it now'. Then I started Her Way, a magazine just about women's sport, which will hopefully change things and make it way more fair or equal."
Each edition of Her Way includes interviews with athletes, reports and recaps from a variety of sporting events, and other features such as sporting book reviews.
While Abbie says the athletes have always been "amazing", it's taken some time to be taken seriously by some in the sporting or media communities.
"It is kind of weird seeing an 11 year old doing sports journalism I guess. But I'm used to it now, like I was at the NRLW Dally Ms and someone thought I was just a kid that was not supposed to be there," she says.
"But I think people take me seriously now, like the athletes understand it. I don't ask them questions like 'what's your favourite colour?' and things like that. I just happen to be a journalist who is under the usual age."
Along with the NRLW Dally M Awards, Abbie has reported from the sidelines of numerous sporting matches and events, including the Women's Basketball World Cup Draw.
"The interviews are probably one of my favourite parts because I get to speak to all these amazing athletes from all these different sports," she says.
"I think I've gotten less nervous over time, but if I'm not nervous I'm not excited. I still get a bit like 'ooh am I going to mess it up' before doing it, but I guess that's all part of it. If I wasn't nervous I probably wouldn't be excited to do it.
"I just love creating [the magazine]. I guess just being able to share about female athletes and sports that people haven't really heard of, or maybe they're not seen about as much in the news."
A dedicated athlete herself, Abbie has competed in Auskick in front of 100,000 people at the MCG 2019 AFLM Grand Final. She says she has always loved both sport and writing, but the inspiration for the magazine came to her in lockdown last year.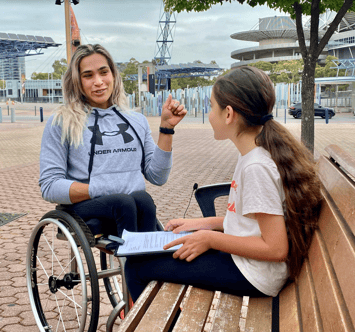 "I had to make a board game for my family to play, so I made a female Olympians and Paralympians Monopoly, and then my dad posted it on his social media and Hannah Green the golfer saw it. So I ended up chatting to her for about 20 minutes, kind of a mini interview, and it was a couple days after that when I was reading a magazine I was like 'yeah why don't I start one myself about women's sport?'," Abbie says.
"I used Canva to make an online website, and I think it took about two weeks to make it and publish it, it was very new so it was kind of hard. My dad helps me a little bit with the design of it.
"It ended up going very well cause I was hoping to sell like 50 copies maybe, that was my big goal and we ended up going way past that and more people have seen it by now which is great."
Her Way offers a subscription package to readers, which includes exclusive behind-the-scenes content from Abbie's interviews. An individual magazine purchase is $2, half of which is donated to UNICEF Australia's 'Empower Girls Through Cricket' appeal.
"I really did want to donate half of it to a charity that would help girls in sport because I thought that made sense," Abbie says.
"We've probably raised almost $6,000 now with some help from other people donating $100 or so."
Abbie is in Grade Six at school, and says it's been hard to juggle all the extra reporting work but her teacher has been understanding.
"My friends don't really understand it so it's kind of hard to explain it to them I guess. I don't know if they really get it, I guess a few of them have bought it," she says.
"It's gotten easier and harder at the same time, I don't know how I'm going to juggle it with high school next year, but hopefully all goes well and I can have a better schedule. I'm starting Year Seven next year, so hopefully I don't get too much homework."
"It's been sort of learning, like I've learnt how to interview people, I had no idea how to do that a year ago. If I had told my past self that I'd be doing all this I probably wouldn't have believed it."