Warwick Long, Presenter of ABC Victorian Country Hour for ABC Rural
29 April, 2021
Warwick Long is an Australian journalist and radio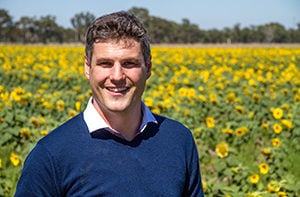 broadcaster who was recently appointed as the new Presenter of ABC Victorian Country Hour for ABC Rural – the first to host this program from regional Victoria. He was previously a Rural Reporter for ABC Goulburn Murray. Warwick started with the ABC in 2007 and has regularly filled in for other ABC Network programs including the Victorian Country Hour, the South Australian Country Hour, Drive for ABC Melbourne and regional Victoria, plus Summer Host for Macca's Australia All Over. You can Tweet him at @Warwick_Long.
What are you most looking forward to in your new role as Presenter of the Victorian Country Hour?
Meeting people and going places. The Country Hour is Australia's longest-running radio program. It's been going on for 75 years. It is such an honour to take over that mantle and hopefully continue its legacy as part of the regional media landscape. What I love about this job is that it is mobile – I can't wait to get out and spend time looking at the food being produced and processed and telling our audience how it is done. Working for the ABC at a regional station is an amazing experience because often you are the first (and possibly only) person from the ABC that people get the chance to meet. This gives you access to incredible stories and characters and it's a privilege to tell these to a large audience.
You will be the first presenter for this program to be based in regional Victoria. What does this mean in terms of news coverage and reach?
I think it gives the program more accountability and authenticity. When I started at the ABC in 2007 we were told this couldn't be done and now that has changed. Technology has helped and I think it will ultimately make a better program. It also gives staff at the ABC who live regionally a visible career path that doesn't involve moving to the city which is something that I'm passionate about. The Country Hour should come from the place in which it is broadcast. When I walk down the street or play tennis on the weekend I am accountable to the people who listen to the program. It is the same as someone like Virginia Trioli – living in Melbourne and presenting the Melbourne mornings program.
How did you get into radio?
My best friend Billy rang and asked if I wanted to do a show with him on community radio on OKR FM in Kilmore, Victoria – from there I went to university at CSU in Bathurst, NSW which ended up sending me on placement to SUN FM / 3SR FM at Shepparton in regional Victoria. After working there I jumped to the ABC in 2007 and have had the same job title for 14 years. The amazing thing about the ABC is the opportunity it gives… Whilst I have been the Rural Reporter for ABC Goulburn Murray I have co-hosted the Victoria Conversation Hour, filled in for Macca on Australia All Over, presented Melbourne and Statewide Drive in Victoria and a whole lot more. It's an amazing place to work.
What changes have you noticed in regional reporting over the last few years?
We do so much more these days. Radio, TV, online and everything in between. When I started the TV crew would arrive by helicopter and you'd chauffeur them around for the day. Now journalists at regional ABC stations are researching and reporting on important stories in their communities for their communities and filing it to big audiences through the ABC Network. Better equipment has helped make this happen. It is so easy to broadcast from location these days and filing vision and other content is getting easier too.
What essential qualities must a press release contain to get your attention?
Professionals in this space probably know more than me but from my perspective I want honesty. Don't promise something that the detail doesn't deliver. My stories are 3 minutes up to one hour and we need more than a headline to hold for that period of time. However, the biggest frustration I have as a radio reporter is when a release is sent out but the talent is unavailable. All too often I will be interested in pursuing a story but the talent listed in the release is on holidays or in meetings for the rest of the day. So I'll drop the story.