Top tips on how to leverage your media release this summer
By Sebastian Parker
16 November, 2021

As summer approaches the media cycle starts to slow while everyone gets ready for the end of year lull. People are planning holidays and time with their families in the lead up to the shutdown over Christmas and New Year. This is an ideal time to pitch summer-specific campaigns and stories that will fit this market.
The season brings an engaged audience seeking inspiration, activities and entertainment. As such, journalists, editors, producers, feature writers and key media influencers are actively on the lookout for stories to cover during this period.
Here are some top tips for summer releases:
Tip 1
To prepare for skeleton staff during the December and January period, most television stations will pre-record soft news stories throughout October and November. It is a good idea to pitch your story to the News Desk as early as possible for an increased chance of pick-up.
Tip 2
In addition to radio stations' deadlines and shut down periods, it is also important to know when the program or segment airs to avoid contacting broadcasting stations at an inconvenient time.
Tip 3
Having a good selection of images with your release will not only help elevate your story but allows editors to visualise how it will look online. Maximise your coverage opportunities for the chance to get published across multiple online and social media platforms.
Tip 4
Pre-recording radio grabs or video clips for multimedia releases before pitching deadlines will make it easy for stations to broadcast comments from your spokesperson.
Use our annual Summer Guide to know what the upcoming deadlines are for summer projects or campaigns, what topics or pitch ideas the outlets are looking for and who to best contact on the desk.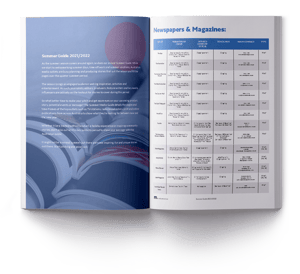 Make sure you know the do's and don'ts of pitching a story, use our checklist to find out. Download checklist