Natasha May, Rural and Regional Reporter at Guardian Australia
By Nell O'Shea Carre
02 December, 2021
Recent journalism graduate Natasha May says it "felt like a dream come true" when she got the call offering her the role of Rural and Regional Reporter at Guardian Australia.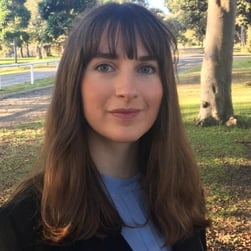 The position, which is supported by philanthropic grants, has been created by the Guardian as part of its new 'rural network' to expand coverage of rural and regional issues with a dedicated editor and reporter as well as freelance contributors from across Australia.

Natasha covers issues relevant to regional and rural areas nationally, as well as local stories from where she is currently posted in Gilgandra, a town of 3,100 people in regional New South Wales.

"It feels like a really exciting opportunity for a young journalist. Regional/rural Australia have so many stories to tell, so many issues that often don't get the spotlight in mainstream media," Natasha says.

"There often is that focus on issues coming out of the cities, and now especially since I started the job I see it so clearly. Often with reporting there is this bias towards just reporting issues, say from NSW, as if Sydney is [all of] NSW."

Independent newspaper Gilgandra Weekly has partnered with the rural network initiative, hosting Natasha in its newsroom while she contributes two articles a week to the local publication along with her reporting for the Guardian.

Natasha says she is grateful to have both the mentorship of the Guardian's Rural Network Editor Gabrielle Chan and Gilgandra Weekly Owner and Editor Lucie Peart, and the opportunity to "experience the issues [she is reporting on] first hand".

"There are a number of different focuses that we've been looking at with the rural network, to do with health, to do with housing, to do with telecommunications and connectivity, as well as just different lifestyle issues, issues to do with the environment and agriculture and how agriculture fits into a net zero future," she says.

"I've really enjoyed the diversity of the topics I've been able to report on, especially when you're starting out it's really great to be able to get that breadth of being able to report on so many different issues.

"What I also really love is being able to do a bit of good old fashioned shoe leather journalism and go out… Even being able to take a few pictures myself as part of the job is something that I really enjoy as well."

Natasha studied a postgraduate degree in journalism at the University of Technology Sydney, during which time she interned remotely at several media organisations before doing a two month internship at the Guardian earlier this year.

Following the internship, she maintained her relationship with the publication by doing casual reporting and pitching freelance articles before applying for the rural reporting position.

"I'm fascinated by storytelling and just the kind of 'people stories', different perspectives... So after I finished my undergraduate degree [in English Literature] I realised I wanted to go into journalism," she says.

"It's been really exciting, I've felt really honoured to be the first reporter for Guardian's rural network."

Natasha's pitching preferences:
"For the Guardian's rural network, we're interested in getting the local stories that have national relevance, national resonance. We've got a really broad range of topics that we're interested in, but any of the stories that kind of are about things happening in local, regional communities but that speak to larger issues resonating across borders, across different communities… We're putting the national in the local story."