Time to stop selling: The PR shift needed to get media coverage
By Nell O'Shea Carre
21 March, 2022
Have you made a few unsuccessful story pitches or press releases recently? Perhaps it's time to stop trying to "sell" and take a different approach to your PR strategy.
When planning a campaign, it's important to consider the different goals or objectives of the media and PR industry. While the goal of PR may ultimately be to sell a product or service, most journalists are instead aiming to inform their audiences with newsworthy stories that are important, insightful, or entertaining.
Overall, journalists are far more concerned about the content of the stories in pitches they receive from PR than other details such as the timing of the pitch or email etiquette, as revealed in Medianet's 2022 Media Landscape Report.
Nearly half (48 per cent) of the almost 1,000 Australian journalists surveyed identified 'content lacking news value' as one of their biggest 'pet peeves' when receiving pitches or press releases from PR.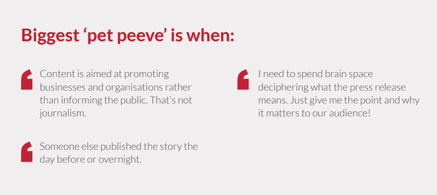 Surveyed journalists on the things most likely to deter them from a story pitch from PR.
Good Talent Media Founder and Director Tony Nicholls is a former specialist live cross journalist who has worked at the ABC, SBS and Network 10, as well as regional radio and television. As someone with many years of experience in finding news angles, Tony told Medianet the PR needs a "paradigm shift".
"I think the reason why most organisations don't get any media is because they approach it firstly as selling themselves — 'here I am, I've got a new product or service'," Tony said.
"They approach PR or media like marketing, they're Return on Investment focused, they're focussed on themselves, and they think 'oh I'm great I'm offering this new thing or I've got this new innovation, I should be in the media'. It just doesn't work."
So, what's the trick to gaining media attention then?
"You've got to stop focusing on you and you've got to start thinking about your whole industry," Tony said.
"If you go to the press talking about your industry, concerned about your industry, highlighting problems in the industry but you happen to have solutions in mind, highlighting trends and your predictions for the industry, highlighting things in the industry that no one is talking about.... Now you're on the highway to getting a lot of media."
Medianet's 2022 report found that industry and professional contacts are the top story source for journalists, used by 88% of survey respondents.
Overwhelmingly, the most widely valued aspect for journalists when receiving pitches or press releases from PR was that content is relevant to the journalists' specific area of work and their target audience. Following this, journalists were most interested in content that is original and unique, and stories where a spokesperson is available for comment.
"The media don't want to talk to people who want to promote themselves or make more money. The media want to talk to people who have really interesting insights into their industry, who are portals into knowledge into their industry," Tony said.
"You're still getting interviewed, you're still getting national coverage, your brand's everywhere, your names everywhere, but you're not selling anything, that's the difference."
Read more insights from Tony Nicholls here.