Meet KIIS97.3 Digital Content Producer Scott Couchman
By Nell O'Shea Carre
12 May, 2022
KIIS97.3 Digital Content Producer Scott Couchman started his media career handing out icy-cold cans of coke for a radio street team for several years, before learning how to panel and starting casual weekend on-air presenting.
"I started in radio because I was in a band and thought 'if I work for the radio station, maybe they'll play my music' haha. That's not how it works, and the band broke up roughly four months after I started," Scott says.
"I have a huge love of music and people — radio connects those things in a way no other medium can. Once I saw behind the curtain and discovered the opportunity to entertain an immense amount of people instantaneously and simultaneously, I was hooked."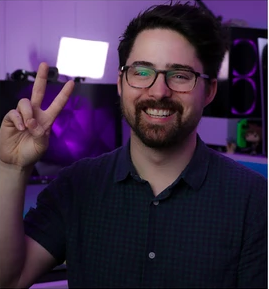 Scott spent several years working in a variety of behind the scenes roles from Show Producer to Operations Manager and Mornings Announcer, while continuing with some casual on-air gigs. He started at KIIS97.3 in January, working particularly closely with breakfast show 'Robin, Terry & Kip'.

He says a particularly powerful moment at the station was helping facilitate the introduction of Hannah Clarke's parents with the man who tried to save their daughter's life."It was an incredibly emotional experience for everyone involved and gave both parties a sense of closure," Scott says.
"We filmed the introduction, shared it with our online audience, and the response was immense. So many people reached out on social media to thank us for sharing their story and shedding light on domestic violence, something that generally is kept in the dark."
Scott's day-to-day work at KIIS97.3 begins with a 4:30am "scour" of the internet before heading into a pre-show meeting. He then spends the morning writing articles for the website, making imagery for social media, filming parts of the show in the studio and editing videos.
He says a key aspect of digital content creation is "knowing your audience".

"[Know] what they enjoy, what they hate, and what will catch their attention. The internet is a busy place, all we can do as content creators is try to add value to peoples' day/timeline/insta feed."
Scott's pitching preferences:
"I personally love when a pitch includes useable stories. If someone sends through a killer product with great photos attached it makes it significantly easier to write-up rather than digging through their social feeds or googling the name. Photos are a must!"