Five great PR and marketing campaigns inspired by international events
By Nell O'Shea Carre
07 January, 2021

Important dates and events can provide a great backdrop or inspiration for PR and marketing campaigns. Here is a selection of some of our favourite recent campaigns based around big events and observances.
Also for campaign inspiration and to make sure you don't miss out on joining key media conversations, we've put together a calendar with all of 2021's significant events and dates.
Medianet's Media Event Calendar 2021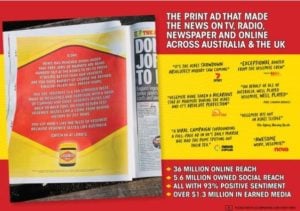 This well-timed campaign was implemented during the Ashes test in England, when UK media reported on Marmite handing out sample jars to Aussies at the cricket. Vegemite quickly took out a page in the UK Mirror with a response designed to ruffle English feathers, and consequently generate media coverage back in Australia.
April Fools Day is always highly anticipated in the PR and marketing industries, but campaigns can be hit or miss. This simple but effective Virgin Australia video ad was lighthearted while still provoking reflection and commentary on one of Australia's current most popular trends or services.
This cute but powerful campaign by Jaguar Land Rover was launched on International Women in Engineering Day in June 2019, and is a great example of how brands can gain inspiration from even lesser known events and dates to build meaningful campaigns.
It doesn't have to all be soppy and sentimental. El Paso Zoo in Texas tickled funny bones with their Valentine's Day campaign, where locals were invited to name a cockroach after their ex, which was then fed to a zoo animal. The popular event was live streamed online and everyone who submitted names was encouraged to make a donation to the zoo.
Finally, some of the best PR campaigns have come about as a reaction to an unexpected social trend or event. One great example is this touching ad by Uber about staying home in 2020.
Submit your event
Reach over 12,000 editorial inboxes and connect directly with Australian and New Zealand newsrooms by submitting your media event to our Media Events Calendar free of charge.