Mridula Amin, ABC Reporter and Photojournalist
By Nell O'Shea Carre
22 September, 2021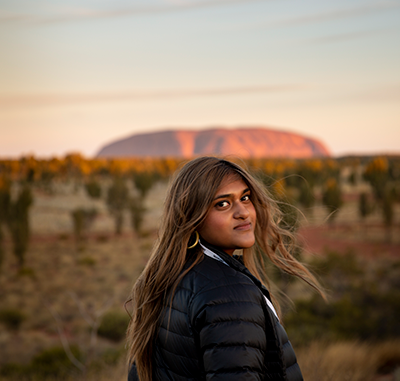 ABC Reporter and Photojournalist Mridula Amin spent more than a month building relationships in a Western Sydney caravan park before she even started to compile the written, audio and visual material for her digital and radio documentary 'The hidden park of the last resort'.
But the extensive research process paid off, with Mridula this year being recognised with three Walkley Awards for the story, including the prestigious 2021 Young Australian Journalist of the Year.
Mridula says that while the Walkley Awards were a "cherry on top", the biggest reward was publishing the story and the responses from the people who were featured in it.
"When Jen, one of the mothers who was in it, said 'this story has made me feel less ashamed to live in this caravan park and this is now my home', I just thought that's beautiful," Mridula says.
"I just always want to give time for the people who aren't in the media usually. Because they often have the most interesting stories but they're often the ones that you have to spend more time with to tease that out, just because they know that they're not usually represented."
'The hidden park of the last resort' is a rich profile of several residents living in one of Sydney's last permanent caravan parks.
Mridula was initially inspired to investigate life in the caravan park after watching Chloé Zhao's Oscar winning Nomadland.
But she says she hit a roadblock early after being told several times on the phone by the park manager that they were not interested in media coverage. It wasn't until Mridula visited the park in person, at the suggestion of her editor, that she was able to gain trust and rapport with the park's staff and residents.
"I became kind of a local at the caravan park over the next few months. I got to know the people, I didn't judge them, and I wasn't going in with a narrative, I really just got to know them first, and I think that helps," she says.
"There's obviously a line between journalist and friend, but those people told me some of their deepest darkest secrets that they've never told anyone else, so you end up carrying this special place in their lives for that period of time, and I just went with it."
"Obviously that comes with sacrifice to my own life sometimes, like sometimes it was nights at the caravan park and not coming home until 10pm. But it was just a really beautiful experience for me as well to do that story. And that's what was required of me for them to finally trust me, it did take that time and it did that all those teas and coffees where you don't really talk about much to then get to the deeper stuff."
The documentary was Mridula's first experience in radio or podcast storytelling, but she has done extensive work as a photojournalist since purchasing her first professional camera as a law and media student at university. It was a gut feeling to pursue photography.
Aside from her reporting at the ABC, and before then, SBS, Mridula has also worked on projects for several international publications, including National Geographic, The New York Times and The Washington Post.
She says that Australia is lagging behind some countries in visual storytelling.
"Visual, I think, is definitely the next thing that Australia needs to hit. You see The New York Times with these sick visual stories; the graphics, the design," she says.
"We're not there yet, but if you consume that sort of international stuff you get inspired to push for more here, and I think we will get there eventually."
"I want to stay sharp, and be really innovative and edgy, and that sometimes means going beyond Australian ways of thinking, because we do have quite a while to go sometimes in terms of the visual front."
Mridula's current role at the ABC is Local Communities Reporter in NSW. She says the "crux of the work" is matching visual storytelling with in-depth reportage.
"It's a new role at the ABC, so I was able to really mould it to the way I do stories, which is obviously really human led, visual storytelling where you really go deep with case studies. Over time we've seen that the audience really likes that," she says.
"But as with any reporter, it's also the hustle and bustle of every-day news as well. Sometimes TV reporting, or doing breaking news, and that's been a really amazing journey with the ABC — working on the bushfires and all the big events over the last few years."
Mridula's pitching preferences:
"What really cuts through for me is when that person has thought about how to tell the story, and usually how to tell the story means that they've found people or they have people lined up to try and help tell that story.
"Usually for every kind of high concept, the story itself is not enough, usually what we need is human beings to carry it — the case studies. So what really sticks out for me is if there is already a case study lined up, or they have a good way to get to a case study. That will make [your pitch] way more successful for journalists at the ABC I think.
"Also know the journalist you're pitching to and their ambit, I'm a journalist working on NSW stories so it's rare I can pick up another state's story or an international one without there being a NSW element."
To access Mridula's full contact details and social media information, log in to your Medianet account here or click here to sign up.