Journalist Spotlight | Interview with Jasmine Wallis, Native Content Writer at Pedestrian Group and Co-Founder of podcast Culture Club
By Eleanor Burnard
30 March, 2023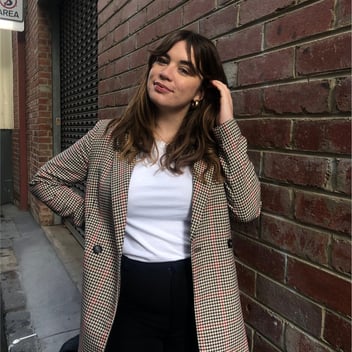 Jasmine Wallis is currently working as a Native Content Writer at Pedestrian Group as well as the founder and co-host of the podcast Culture Club alongside Maggie Zhou.
Medianet sat down with Jasmine to discuss her career so far, and how she first got here.
You are currently working as a Native Content Writer for Pedestrian Group and you have experience working in many different fields such as a Copywriter, Freelance Writer, and Podcast Host. How did working in these roles prepare you for future endeavours in your career?
I graduated from RMIT university at the end of 2019 and entered the full-time work force during COVID. Working for myself during that time as a freelance writer was challenging but it helped my confidence a lot. That's also when my co-host, Maggie Zhou, and I first began the Culture Club podcast!
You have to keep putting yourself out there and proving why you're the right person for the job.
I just kept working for as many bylines as I could, pitching to the likes of Fashion Journal, frankie, ELLE Australia, Zee Feed and, of course, PTV and Refinery29 Australia. It was through this work that I was approached for my current position as Native Content Writer for Pedestrian.
What have you learnt the most about yourself during your career, so far?
I've really learnt how to come up with creative ideas really quickly.
There's no such thing as writer's block when you have multiple clients to write for!
Did you always want a career in the media industry?
I've always wanted to be a writer.
I loved English and history class during high school and I applied to a Bachelor of Communications so I could get a broad knowledge of the communications industry.
Magazines were my first true love of the media industry like Hello!, Dolly and Girlfriend.
Being able to get internships at frankie and Fashion Journal magazine was my dream come true.
What makes writing and working primarily digital and online so unique?
It's unique because we're now working across so many different platforms and mediums.
For example, in our Native team we've been working on a lot of social-first content and figuring out how we can share stories and news with people who, primarily, get their content from social media.
I also love the way digital is so fast-paced. I entered the industry just as print was "dying" so I've only ever really experienced working in online media!
What is a commonly held belief of your job that you disagree with?
That we're doing the "dirty" or "easy" work because we're working with clients and brands.
It really does take skill to receive a brief from a client and achieve their objectives while also still speaking to and with our engaged and dedicated audiences.
Every day is like working out a puzzle and when you're able to keep both sides happy, it's a great feeling.
What has been your most memorable experience in your entire career, so far?
I'd have to say it was last year when my Refinery29 Australia piece, This Image Collection Celebrates The Diversity Of Skin Tones In Australia, in partnership with the Google Pixel 6.
It was nominated for Best Corporate Content at the IT Journalism Awards, known as the Lizzies, and that was a really proud moment.
If you could give your younger self some advice in working in this industry, what would it be?
Don't take edits and feedback so personally!
You have to separate your identity from your work sometimes, which can be hard when writing about issues close to your heart. A good editor just wants to see your work be as tight as possible and it's never personal.
What has been the most interesting piece you've written about or discussed in the last few months?
Most recently it would be this fun interview I conducted with the comedy duo, The Two Queers, for BWS and Sydney Worldpride on Pedestrian TV.
Over on Refinery29, it would be this explainer on where Australia is at when it comes to asylum seeker and refugee rights for the Asylum Seeker Resource Centre.
What is your research process?
Our research process comes miles before actually getting started on the native content.
As a team, we receive a client brief from the partnerships team and then brainstorm all of the potential angles for Pedestrian Group's multiple titles. We research what the brand's aims are, what they've done in the past, as well as searching our titles to see if the angle has been covered organically.
Only once it's sold, then we start writing!
What are your pitching preferences and how do you prefer people to get in contact with you?
Because we work directly with paying clients in Native, it's quite rare for us to run with an organic pitch.
It's still great to read about what's going on and if it's relevant, we'll pass it onto the organic editorial team (or pitch it ourselves on the off-chance we have time). I'll always try my best to get back to you.
Pitch me at jasmine.wallis@pedestriangroup.com.au.