Harper's BAZAAR's Mariela Summerhays on digital content and growth
By Nell O'Shea Carre
22 June, 2022
As Head of Digital Content and Growth at Harper's BAZAAR Australia/New Zealand, Mariela Summerhays is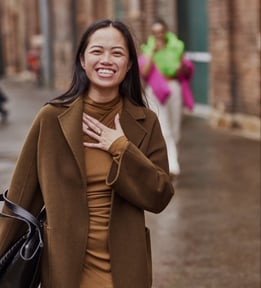 responsible for the broader editorial direction of the premium fashion and lifestyle title's digital platform and social channels .
Beginning her media career at Mamamia, before moving onto editor and content writing roles at BuzzFeed and news.com.au, Mariela reflects back on the challenges overcome in her early days in the media.
"[A] challenge that comes to mind is being a twenty-something, breastfeeding mother-of-two (now three!) in a crowd of teenaged university students during an unpaid internship, my first role in the industry," she says.
"There were so many demands on my time, body and money back then, but I was determined to make the best of the opportunity for myself, and the skills and drive I cultivated during that time set me on the path to where I am now."
"There are so many more 'failures' than 'wins'. Casual and contract positions that never turned into anything more permanent; unemployment and a return to retail (I'm a terrible salesperson). Turns out it was all just redirection."
Prior to entering the media, Mariela studied behavioural science at university.
She says this study has "absolutely" informed the work she does today, and is "underscored by a desire to understand humans, and to understand them deeply".
"The most satisfying stories to write, to edit, to commission, to ideate, are underpinned by this desire," she says.
"Away from my work as an editor and writer, my study into organisational psychology gave me a theoretical foundation from which I formed my approach as a manager. I prioritise a collaborative and open work culture, and most of that is my nature, but it's also because I know from research it yields the best outcomes for a business."
Unrelated to the content of her studies, Mariela says this time at uni also taught her the importance of destigmatising mental health.
"I suffered severely from anxiety," she says.
"So now I speak freely of my mental health in professional spaces, in the hopes those who report to me will feel it is safe for them to do so as well."
Harper's BAZAAR was shut down due to pandemic related difficulties in July 2020, but relaunched again the following year under Switzer Media & Publishing.
Despite being a 150-year-plus heritage title, Mariela says the magazine and digital platform is "very much" a start-up since it was brought back less than a year ago in September 2021.
"The part I most enjoy about my role is working with my team, they're lovely, brilliant people. We've grown the digital audience from zero to the heights of its past iteration, and it has everything to do with these individuals' attitudes, skills and trust in each other," she says.
Mariela's current role at Harper's BAZAAR involves growing audience and partnerships, responding to briefs from partners, ensuring campaigns are delivered on time, and occasionally writing for the publication herself.
In a constantly evolving digital landscape, Mariela says the key is being open to different opportunities and ideas.
"Engaging and precise digital content has always been the accurate interpretation of data meeting well-honed editorial insight, that will never change," she says.
"What has changed — and part of what I find so fascinating about digital media — is how that content generates revenue and consequently, where digital publications will next invest in talent. For example, affiliate businesses grew exponentially during the pandemic; and it was not so long ago that luxury brands were exceedingly wary of TikTok, and now everyone's wading into the waters."
"My advice, should anyone care for it, will always be to practise openness in your career (and life!). That philosophy has seen me take roles in editorial content, branded content, affiliate content — even outside the industry, copywriting at an e-commerce site — and I couldn't bring my particular set of knowledge and skills to my current role, had I been resistant to any prior."
Mariela's pitching preferences (for freelance journalists):
"The best story pitches are concise; I don't think more than a paragraph or so is necessary. That makes clear to our editor that you can self-edit, which is important if she's not worked with you before. Ensure the target audience and story objective is outlined; a beautiful concept or story is hard to commission if it doesn't meet the editor's aims, which in digital media, is largely to generate page views and/or engagement.
"Lastly, include links to two or three stories you're proud of having written. Editors will usually commission from a pool of contributors with whom they've worked with in the past; if one can immediately gauge your tone of voice from prior work, it can make all the difference to new external contributors."