Demonstrating ROI and Impact with Medianet's Pickup Tracker
By Mercedes Carrin
25 October, 2023
In a recent survey conducted among Medianet customers, we learned that the number one request from PR professionals is the ability to see the impact of their media outreach.
With PR budgets suffering, tools that can help you prove the worth of media outreach are essential.
With the newly launched Pickup Tracker, anyone distributing their press release via Medianet can now see exactly that: the impact of their outreach in the shape of actual media coverage generated from that press release.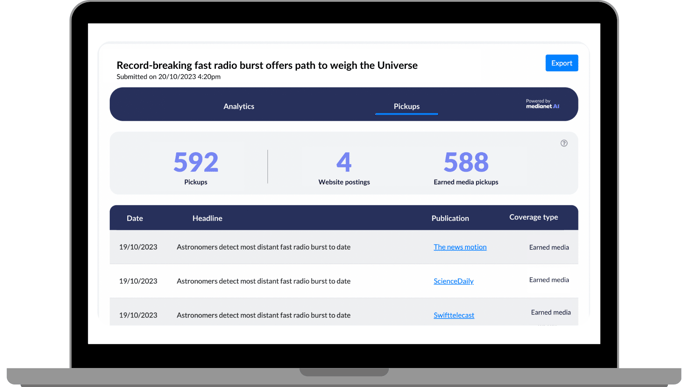 It's a revolutionary tool because, far from a media monitoring service which can cost thousands of dollars per month, it takes the guesswork out of press release distribution at no additional cost to Medianet clients. The Pickup Tracker ultimately allows PR professionals to prove the return on their investment and the worthiness of their work.
Here are three ways you can benefit from Medianet's Pickup Tracker:


Know exactly where your press release has gone
Within 12 hours of distribution via Medianet, you can learn and access media outlets that have published your story.
Medianet's distribution platform allows you to select from Medianet lists already tailored to specific topics, regions or industries, or create your own lists by accessing a database of 36,000 media outlets and contacts.
All you need to do is use the Medianet platform to submit your press release to any list and wait between 1 and 12 hours to see your media pickup. Export the results into a CSV file for additional reporting.


Learn from the results
By understanding what outlets have picked up your story, you are able to start drawing conclusions. Correlating the list of outlets you reached out to with the outlets that have actually picked up your story, can give you a outreach/pickup ratio which could be useful as a benchmark for future releases or campaigns.
You can also keep track of those journalists that have been interested in the story and start building relationships with them, knowing that you can be of benefit to them and become a trusted source.
You can even build your own list of contacts and publications that have been interested in your releases in the past by creating a list on the Contacts Database. This list can be your go to for subsequent releases.
Put a number against your wins
We all know it's hard to put concrete dollar value against media coverage. Outdated methods such as AVE (which calculates a monetary amount against media coverage based on the equivalent cost of placing advertisements) are not accurate and don't account for nuances such as sentiment and prominence.
When analysing media pickups, you can engage analysts to tell you the real meaning of your media coverage with a Media Activity Impact Report (which is included in all PRO, Enterprise and Insights+ subscriptions).
Another way to put a number against these wins is by measuring the time it has saved from setting up and monitoring alerts or the time spent looking for media pickup manually. As Stella Bayles explains here: "If you can automate any area of your work, you're banking that free time," - and that free time has a monetary value.
Not distributing with Medianet? You can still use the Pickup Tracker
In some cases you may not want to distribute your press release with our distribution platform. Instead, you may build your targeted lists and send personalised pitches to individuals.
If you want to know the coverage of those pitches, you can still use the pickup tracker but submitting your press release via Medianet to a custom list. The pickup tracker will match the content of your release with any published articles across 2000 media sources. So if your pitch was picked up online, it will be displayed on your press release insights.
Have you given the Pickup Tracker a try? Learn more about it here.