Cameron Price, Founder of LeadStory
By Nell O'Shea Carre
25 November, 2021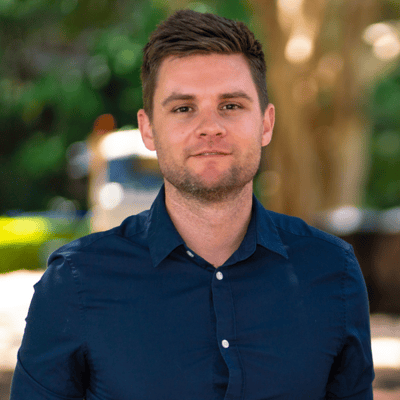 "Why can't we transfer some of the convenience that we see in places like Netflix or FlipBoard over to the broadcast news industry?"
This is the question journalist Cameron Price asked himself when dreaming up the concept of LeadStory, an on-demand personalised news streaming platform that launched in September.
The former 7 News Reporter began laying the groundwork for LeadStory last year and has since quit his job at Channel 7 to focus on the platform full time.
Fortunately for Cam, the gamble has paid off, with strong initial interest and support from both advertising partners and media publications allowing the platform to launch globally from day one. He says he's been "blown away" by the success so far.
"We feel like it's going to be a cross-platform news viewing experience that is unrivaled anywhere in the world," he says.
"I just found myself increasingly in the past few years, as an avid news watcher, just switching off for parts of various news bulletins I was watching, and finding myself scrolling through my phone on Google News or FlipBoard, and having things it knew I was interested in being delivered to me, and I thought 'why can't we do this for broadcast news?'"
While Cam's wish for more personalised news bulletins was the driving force behind LeadStory, he says that improving public trust of the news in the "underlying social change that we want to enact".
"We know that they [people] trust publishers, we know that they trust newsrooms and journalists. But we know, studies show, that they don't trust the tech platforms that are delivering them the news," he says.
"The underlying reason for this is that people just don't have an understanding, or there isn't a level of transparency about what the algorithms are sending them. There are the hidden calculations that decide what news they are shown, or importantly, what news they are not shown.
"We want to flip that. We want to put the complete power of the algorithm in the users' hands so they have full control over what they see, and the content providers that they get their news from."
The platform, which is free for users and entirely ad-supported, features various filters allowing users to personalise the news they stream, by categories such as location, publishers and topics.
Content is supplied by a variety of global and Australian media publishers/organisations, including Reuters, ABC News, Al Jazeera, Fox News and Bloomberg.
Cam says another goal for LeadStory is to help the media industry by driving revenue back into newsrooms.
"I started at WIN Toowoomba, I know how valuable the local news media industry is, and I know that it's had a rough time of late. We're incredibly keen to get regional publishers, not just here in Australia, but globally, onto the platform, to better monetise their content and to provide regional viewers and regional publishers with a voice," he says.
"The dream is that this becomes a global news marketplace, not just for users to source video news content from publishers and places all over the planet, but for newsrooms to more fairly monetise their content. Because the reality is at the moment, if they place their content onto other platforms, essentially they're monetising at the same rate as someone who is sitting there streaming video games.
"Good quality news content is expensive to make, and the types of returns that you have out there at the moment don't properly reflect the expertise and the expense that goes into creating top-quality news content."
To access Cameron's full contact details and social media information, log in to your Medianet account here or click here to sign up.