Interview with Shannon Molloy, Senior Reporter at news.com.au
15 November, 2018
Shannon Molloy is a senior reporter for news.com.au. While studying Journalism at the University of Queensland in 2002, Shannon founded Plasma Rag, an online lifestyle publication. Upon completing his university degree in 2006, he joined The Brisbane Times as a general news reporter. In 2014 he moved to News Corp as an entertainment reporter before leaving to join Amazon in 2017 as its content editor. Shannon rejoined News Corp earlier this year to his current role.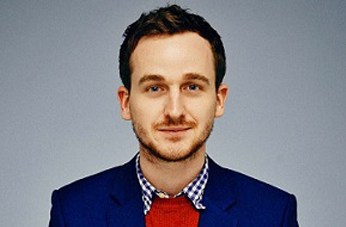 As feature writing is one of your specialities, what are the key aspects of good storytelling?
Personally, I like colour. I have a lot of fun describing sights, sounds and smells – either from the interview itself or from the recollection of the subject telling me the story. I interviewed Nigella Lawson once and felt quite nervous about getting an interesting story out of her, given she's spoken to probably 1000 journalists. In the end, I opened the feature with her describing her favourite food smell – lemons – and where it took her – her gap year in Italy, wandering through countryside orchards.
Where do you think long-form journalism is headed in Australia?
There's still such an appetite for long-form storytelling done well, and we are able to do it in more innovative and immersive ways. You only need to look at the enormous success of The Teacher's Pet podcast series produced by The Australian to see that. I think the trend of journos writing compelling books is also successful. I've recently been signed to write one myself.
What key information do you look for in a press release?
Relevance. Some press releases try too hard to be clever. Write it the way a journalist would write the story – an opening paragraph that packs a punch with good, strong information, and has the reader wanting more. Also, know your audience.
Which feature writers have been influential in their work over the years?
I worship the ground that Trent Dalton walks on. Early on in my career, I read a piece he'd written – funnily enough, about a news event I had covered a year or so before – and it was so powerful and impactful that it had me weeping. Like, seriously weeping.
In 2002, you founded an online news and lifestyle magazine called Plasma Rag. What key lessons did you learn from this experience?
I was in my final year or so of high school, and I'd just returned from the US, where I'd been lucky enough to write a few freelance articles for various publications. I'd always known I wanted to be a writer, but there wasn't much opportunity in my regional Queensland town, so I started my own outlet. After five years, we had a loyal little following and a couple of regular contributors. That experience taught me that sometimes you've got to make your own opportunities; it also taught me tenacity.
With the immediacy of online news, how do you ensure accuracy when publishing to an online platform?
Once you've made a huge error, you're unlikely to repeat it ever again. Speed is very important, especially in this hugely competitive environment, but it's better to be right than first. Also, if in doubt, don't publish.