Interview with Bhakthi Puvanenthiran, Associate Editor at Crikey
14 February, 2018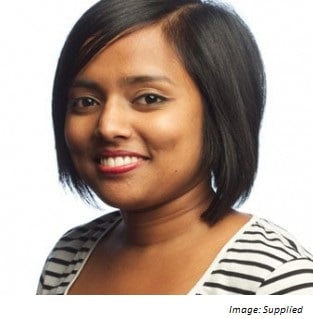 Bhakthi Puvanenthiran is an Associate Editor of Crikey.com.au. Previously Bhakthi was a journalist and editor at The Age and The Sydney Morning Herald covering arts, entertainment and business. She co-hosted the podcast Hard Bargain, is a regular media commentator and sits on the board of the National Young Writers Festival. Her Twitter handle is @bhakthi.
You've had a plethora of writing, editing and hosting roles for different outlets. What motivates you to try everything and to keep learning new roles?
I think the most exciting thing about the media now is not knowing how a role is going to pan out when you start it. Certainly, that's what happened for me at Fairfax Media where I got the opportunity to make a podcast and write for the business section (both of which I never thought would happen) along with writing art reviews and breaking news. Now at Crikey, I'm hoping to make some inroads with working with different formats as well as increasing the events we do for our subscribers, which ties in nicely to my experience at various writers' festivals.
What is the most valuable skill you have learnt from the media industry?
The most valuable skill is probably just being adaptive. Sometimes you think you know what a story is going to be, but after you have a good chat with a colleague or do the interview or your research, you realise everything has changed and that's brilliant.
What is the craziest story you've ever reported on?
Not sure I've done too many crazy stories, but my consecutive front-page story on dancers on a Kylie Minogue set not being paid was a real curve ball. It was illuminating to hear from people who have devoted themselves to an art and couldn't get paid even for high profile commercial gigs. You can read about this here.
What does a press release have to contain to capture your interest?
At Crikey, we don't often do long-form press release reporting, but from my previous jobs, I would say – clear availability of talent, clear time frame and clear positioning in terms of the value of your particular publication or section. Basic but hard to get right.
What's your process for finding a fresh angle in a story?
For Crikey, I think it's always about looking at who is involved and what that tells us about a situation. However, if after a process of discussing with colleagues, looking for new voices to include and other research, if we find we're still stuck, sometimes you just have to let the story go. I think it's too easy now for digital media to keep a story alive for its own sake.