Interview with Alicia Vrajlal, Entertainment Editorial Lead at Yahoo Lifestyle
11 October, 2018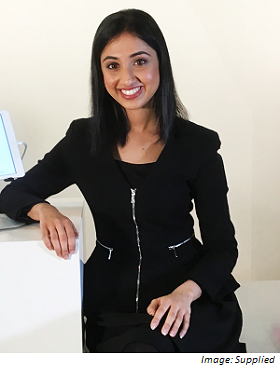 Alicia Vrajlal is the Entertainment Editorial Lead at Yahoo7. In this role, Alicia is able to pursue her passion for investigative-style entertainment journalism and original storytelling. Prior to Yahoo7, she worked at Daily Mail Australia. Alicia made her start in the industry in 2011 by launching her own Australian entertainment blog I Am Starstruck. Later this year, Alicia will be launching another website titled Draw Your Box. The website will focus on diversity and human interest stories that appeal to women of colour in Australia. Her Twitter handle is @LeeshieV.
What appealed to you about entertainment journalism?
It is entertainment's ability to bring other people together that appealed to me, along with my curiosity to unlock the unknowns of the industry and share them with readers. Whether it be film, television or music, the world of entertainment can serve as a talking point or topic of conversation with anyone you meet.
Considering your blog is called I Am Starstruck, who have you been star struck by and under what circumstances?
My blog I Am Starstruck was launched in 2011 as a means to serve an untapped area of the market – Australian celebrities and their local success stories. As I've progressed throughout my career, I've become less starstruck, but meeting my celebrity crush from my high school days, Zac Efron, was a notable moment. I went on to interview him two more times and the giddy feeling never goes away.
How do you use press releases as part of your newsgathering process?
Press releases are incredibly useful when they are clearly structured, have the most useful information at the top and are succinct. A press release is only a starting point. Ideally, as a journalist, I'd then conduct follow-up interviews or identify an angle if the topic is newsworthy.
What do you think a journalist should do or be to have influence in the entertainment industry?
Enthusiasm, passion and social media are incredibly useful. When you combine the three, not only are you exposing your articles and ideas to readers, but you are educating and opening up their minds to new information and perspectives, and therefore exerting influence.
Entertainment reporting is a competitive field, how do you find a fresh angle in your stories?
Finding a fresh angle is all about stepping into the reader's shoes and asking yourself, 'What would I want to know if I was a reader?'. If the answer leads to a rival's article that was already published, it's time to delve deeper and see if there's another subject you could interview, or vision you could capture to move the story forward.
Given that you are very active on social media, how does it support your work?
Social media is an incredibly useful tool to inform followers of when a new piece has been published. Through Facebook, Twitter and Instagram, sharing links has never been easier, and there's the opportunity to caption the posts with the messaging you'd like to get across. Social media can also be the source of a new story. Many reality TV articles nowadays stem from viewers' Twitter reactions.