Interview with Ashlynne McGhee, Reporter, 7.30 on ABC TV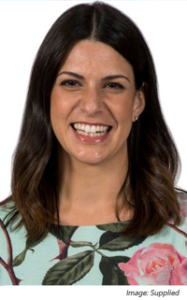 Ashlynne McGhee is a Reporter at the ABC and Vice President of the Melbourne Press Club. She's broken stories for the ABC's flagship current affairs show 7.30, worked in the Canberra press gallery, reported as a VJ from remote parts of Australia and overseas and dipped her toe in investigative comedy (which she says is definitely a thing). You can Tweet her at @ashmcghee.
You've worked in radio and television – what's your favourite medium to work in?
Ooh that's tricky! I love the intimacy and immediacy of radio and I definitely consume a lot of podcasts. But I also love the impact of TV and the power of pictures. One of the best bits of my job at 7.30 is working with such talented camera operators and editors. I often have an idea of the story in my mind, but seeing it brought to life by the team is always my favourite part.
How do you choose which stories to report on for ABC 7.30?
I'm based in our Melbourne bureau so I'm always on the lookout for strong local stories that also have a broader national appeal. 7.30 is really driven by strong characters and case studies. And we want to bring the audience something fresh – a big scoop, a key interview or an intriguing tale.
Data journalism is becoming increasingly important. How do you use it in your job?

Data journalism is one of the pillars of investigative journalism – think of data like a trusted source or a juicy document. It might generate a new story lead, add another dimension to a story or just build context around an issue. You can keep it simple and use Excel, but I was lucky enough to learn SQL (a language you use to talk to database managers) while on a fellowship in the US.
What's the best interview you've ever done?
Again tricky. I think my favourite interviews are always with real people – sometimes on the best day of their lives, sometimes on the worst and sometimes just somewhere in between. There's also a certain satisfaction of getting a direct answer out of politician or public figure – they make you work hard for that.