ABC Digital Journalist Angelica Silva discusses representation and diversity in the media
By Nell O'Shea Carre
11 March, 2022
Digital Journalist Angelica Silva credits her inspiration to become a journalist with a desire to improve on screen diversity and share the stories of multicultural Australians.
"My parents are from Singapore and my grandparents are Indian," Angelica says.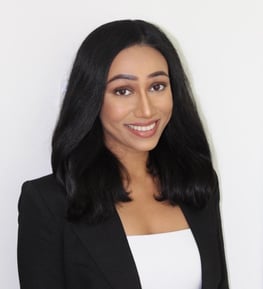 "While I feel incredibly lucky to have experienced these cultures blend with my Aussie upbringing, there were instances in high school and even after where I was treated and viewed differently for having darker skin.
"From insults slandering my ethnicity, to feeling isolated in conversations, I decided I was no longer going to let these experiences make me feel alone. Instead, I was going to share them with the world, with the hopes of representing and connecting with other people of colour who felt like their stories and experiences weren't being told."
Last month Angelica announced her new position in the ABC News Digital Audience Engagement team with a tweet referencing her experience growing up in Australia with very little representation in the media of journalists "who looked like me".
"I saw a lot of responses to that tweet along the lines of, 'Are you serious? You have Lee Lin Chin'. I couldn't help but let out a little laugh. Yes, we are so fortunate to have a handful of journalists of colour who paved the way for journalists like me. But that's just it. We only have a handful — a handful amongst a sea of Anglo-Celtic journalists," she says.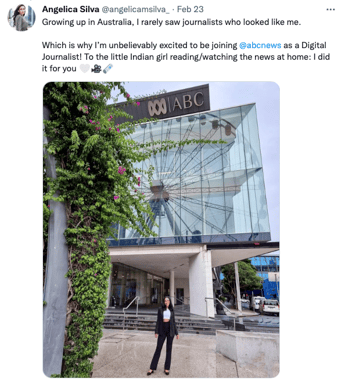 "Australia prides itself on being a multicultural society. Yet when I was growing up here, television did not reflect the make-up of the wider community. This meant that the stories of multicultural Australians were rarely being told and when they were, it was often in a negative or insensitive light that didn't accurately reflect the community."
A 2020 report initiated by the non-profit Media Diversity Australia found that an overwhelming 76 per cent of presenters, commentators and reporters on Australian news and current affairs television were of an Anglo-Celtic background.
Angelica says improving the diversity of Australian media is vital in offering different "perspectives and approaches to help us all better engage not just with the Australian community, but with the world".
"Other responses I saw to my tweet were, 'Why should your ethnicity matter in journalism? We don't care what you look like - what matters is the work you do.' Why does representation matter? Because without it, the culture of Australian newsrooms is unlikely to change," Angelica says.
"How is the news meant to look and sound like modern Australia when you don't have journalists who come from different ethnicities, backgrounds, sexualities, and disabilities?"
Beginning her career as a freelance journalist, Angelica says she developed what felt like a "double identity with journalism" while writing for varying publications.
"In one part of my work, I felt like Lois Lane. I deeply valued investigative journalism and quickly began covering protests and racial issues for Business Insider, and reporting on refugee and immigration issues for Al Jazeera," she says.
"But the other half of my work is where you could say my Carrie Bradshaw side flourished. I loved reading about all things lifestyle, so I started writing about career, work, money and relationships for Refinery29 and other publications.
"These two sides stayed tethered to me throughout my career."
Angelica says her experience as a freelancer helped her become a "proactive and resilient writer", before moving onto a position as a print and digital journalist for a fashion and beauty magazine.
"It was this job where I got to marry my passion for thought-provoking journalism with my love of writing about lifestyle. But I always knew that news reporting and investigations were what I wanted to work in."
In her new role in the ABC Audience Engagement team Angelica is responsible for identifying patterns in search trends, spotting themes in reader questions and interpreting digital analytics. Along with writing and producing digital news content, Angelica says she will be "helping to harness" the stories of the thousands of Australians who make contact with ABC News weekly to ensure content reflects the diversity of the Australian community.
"I remember the first time I read an article about a similar experience to mine as a South Asian; it was published on ABC News. From that moment, ABC was the organisation I wanted to contribute my work to and be a part of," she says.
"Honestly, I'm just extremely excited to be learning from some of the most dedicated journalists and content makers. I'm looking forward to being thrown into the chaos of a newsroom and working with my team to tell the stories that matter to Australians."
Along with having the opportunity to interview 2021 Australian of the Year Grace Tame last year, Angelica says one experience in her career as a journalist that has stuck with her was covering the release of 50 refugees from Brisbane's Kangaroo Point detention centre for Al Jazeera.
"I interviewed two of the released refugees who were kept in offshore detention for over six years. Hearing their stories and what they had experienced was heart-breaking. But it also made me incredibly grateful to be in a position to help share their stories to the world."
Angelica's pitching preferences:
"I'm very big on not falling into a habit of using the same voices on the same issues. So, I'm always interested if unique voices or experts in their field are quoted and available for comment. Essentially, any press release that offers a new or alternative voice or perspective is of interest to me."