Andrea Thiis-Evensen, Audio Producer, NewsCast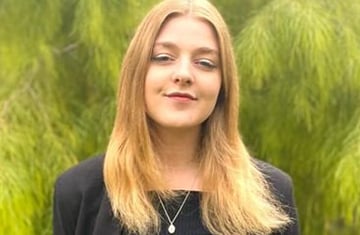 Andrea Thiis-Evensen has what many would consider a dream job — listening to true crime podcasts for a living.
But as an Audio Producer, Andrea's work is far more complicated than just listening; she edits, produces or audio engineers between five and 15 podcasts each week for News Corp's podcasting arm, NewsCast.
Andrea says one of her main responsibilities is helping senior News Corp journalists to adapt their stories to the audio medium.
"All these experienced journalists now are saying 'oh I want to make a podcast'. But they have no idea how to, so instead of them falling behind it's really fun to help guide them on the journey with that. I love it," she says.
"I'm working with the Europe Correspondent on a podcast about the mafia. But then we also do dating podcasts as well. It goes from very serious stuff to very fun stuff."
Andrea began her journalism career at the age of 14, working for fun in a local radio station.
In addition to her producing responsibilities, she is currently creating her own podcast documentaries, and says the research process often involves a bit of "dumb luck".
"I find an interesting person. I might just make one episode, but then if you keep following them you're going to run into all these other people on the way.
And maybe you stumble upon an amazing story, and maybe you don't but you've met them and that in itself is great," she says.
"I've worked with live radio as well which is very different. But I just love it because it's such a fun way to tell stories. And it's becoming huge, and I feel like I'm kind of riding the wave of how it's growing in Australia."
Andrea grew up in Norway and only moved to Australia to study when she was 21 years old.
She says the move was difficult, but she "jumped in the deep end" immediately.
"English isn't your first language and you've got to get comfortable with speaking English everyday. I was lucky because MOJO, the student publication that I joined, didn't have anyone doing radio, and I thought 'ooh I can do that'," she says.
"Maneuvering a new media landscape is really hard. Because you don't know anything about the pop culture, and you don't have much background info on how it works."
Without an Australian citizenship, Andrea says every job application was immediately declined. She credits her seven internships as a student with allowing her an entry into the industry.
"You've got to find your way around that when you're not from Australia. I feel very lucky to have a job here. It's mainly because of everyone I've met who have helped me," she says.
"I remember the day I fell in love with radio, and it was like I fell in love with someone. It doesn't feel like a job to me, so I think because I have such a passion for it it made it a little bit easier."
Andrea now also freelances as an Australian correspondent for a Norwegian news channel.
"It started during the bushfires. I'd never done anything on TV before so it was terrifying, but I just kind of kept doing it," she says.
"So now I'm reporting on COVID and what's happening here."
Andrea's pitching preferences:
"I think when it comes to pitching in general, and this is what we were taught in uni, is that it needs to have a news value and also be kind of original. For me it's all about the person that you're interviewing. News is not my thing, for me it's about the human interest aspect. So if there's a very interesting character that you have, and you have the time to follow them, then just do that. That's how I started all my documentaries.
"If you have an interesting story, it doesn't have to be super original if it has a strong talent. And the other thing with podcasting is it has to have some kind of question that's put out at the start and answered at the end."