Toni Tenaglia, Radio Announcer at Gold 104.3
By Medianet Marketing Team
Radio Announcer Toni Tenaglia has presented and programmed for over 10 radio stations across both Australia and Ireland.
Currently, the host of Gold 104.3's afternoon program, Toni says her career, which spans more than three decades, all began with work experience in high school.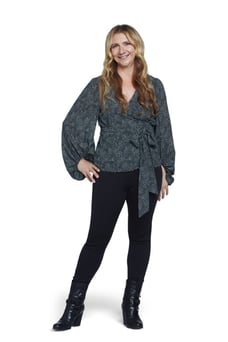 "[It] started with a love of the media. When I was in high school, I knew I wanted to work in the media, but I just wasn't sure what I wanted to do, so when we had a chance to do work experience, my plan was to do a stint in radio, a stint in TV and a stint at the newspaper," she says.
"The first stint that I did was at a community radio station, and I thought 'this is pretty cool'. Then I got this great report back that said I should be doing radio, and that, I suppose, for me was the turning point."
"I didn't think twice about it while I was there, but when I got this report back, I thought 'ok let's give this a go'. I haven't looked back since, it just sort of snowballed from there."
After finishing high school Toni landed a job immediately in a metro station in Melbourne.
She says it's important to her that when she is on-air she speaks and tells stories in a way that is relatable to listeners.
"For me it's a case of when that microphone goes on, I just picture that I'm having a chat with a friend, we are just talking about stuff. If I have a stumble as I talk, well that's just how you talk naturally. It's always making sure that when I talk on-air, I'm talking in a "real" manner where I'm not putting on a voice, or I'm not putting on how I say something, I'm just speaking normal speak," she says.
"It's all about sharing your stories. Anything that I talk about on-air, I relate back to my family, and if I'm talking about the type of day we're having, I never feel like I can't get on air and say 'you know what, I've actually had a bad day today,' or 'I've been awake since five this morning because my son got up early for work and woke me, or the cats have been jumping on my bed and waking me'. I just want to make sure that when I'm talking about something, it's the same stuff that everybody else is living as well."
"Being real, being relatable, making sure your listeners feel like they're listening to a friend, that for me is what I aim to achieve every time I'm talking on-air."
Despite taking a lot of phone calls from listeners on-air, Toni says much of her preparation for hosting occurs before the show, including calling people to pre-record segments and then editing them down ready for broadcast.
She says pre-recording segments can also buffer for the inevitable "mental fatigue days" that come with live production.
"People think when they're listening to the radio, that you're just in control all the time and that nothing else can distract you. But at the end of the day we're human, I'd like to say that we don't make mistakes, but we do," she says.
"Probably one of the funniest things that has happened that has stuck with me is Keanu Reeves, I don't know why but I couldn't say his name, and I had to say his name on air for a contest I was doing. I called him 'Canoe' Reeves. It's probably one of the small things that happens to people on-air, but for some reason it stuck with me and I've never said his name wrong since!"
"If I'm stuffing up it's usually me stuffing up somebody's name, as opposed to technical things, and in the end, it's relatable, because I'm not the only one who gets things wrong. I think it just shows people that you're real, because if you've got everything word-perfect that's not real, that's not how we speak."
Toni's pitching tips:
"I love talking to artists, whether they are musicians or they're celebrities, that have something that we can talk about that relates to the audience. It's great to have these guys on, talking about their TV shows, or talking about their music, listeners like to hear that sort of stuff. But when you've got stories from them that show that they're real people or that they're going through things as well, or they've got funny stories to share to listeners — they're the sorts of things that I like to put to air. Again, for me it's about relating to the audience. That's what I'm all about."