Rachel Smith - Freelance Journalist
By Eleanor Burnard
31 March, 2022
Rachel Smith is currently working as a Freelance Journalist and has been in the media industry since 1995. Since a young age, Rachel has always wanted to have a career working in media and first began her writing journey during her school years.
"From a young age, I was writing stories and trying to have them published in the school newspaper!"
"Back when I graduated uni, I adored print and thought my career would always revolve around magazines."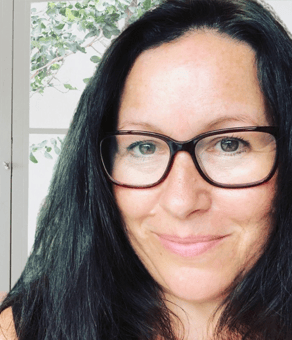 Since then, Rachel worked in a variety of different roles including as a film reviewer and as a writer for health and women's magazines, describing it as "a really fun time" in her life.
"But, life happens – and my career has evolved in so many different ways; ways I'd never expected."
This included taking a sideways step into copywriting, which found Rachel writing for some of the most unexpected mediums and brands.
"Alongside the magazine work I still do, I take on a lot of copywriting projects and have written copy for brochures, ebooks, reports, websites, and even cereal boxes. I also do a lot of content marketing and I build websites for other small businesses. I've had to learn many new skills in order to grow my business and continue freelancing (which I've been doing for over 20 years)."
Working as a freelancer means that Rachel isn't tied down to only one specific role in her career, and has allowed her skills to develop in many different areas of the media industry.
"I do a weekly podcast with fellow journalist Lynne Testoni, called The Content Byte. And I founded Rachel's List, a jobs board and community for journalists, copywriters, content specialists, and other types of media / creative people."
Rachel's List helps up-and-coming journalists as well as those already deep into their careers – and it's been a platform for Rachel to share some of her processes and systems with other freelancers.
"At Rachel's List, we created all kinds of 'trackers' for freelance journalists including the source tracker (a searchable spreadsheet for experts, case studies, and other sources) and the pitch tracker (for monitoring story pitches). All our trackers have been designed around how I do things myself when it comes to managing my time, pitching stories, chasing down client leads, etc. They've been popular with members of Rachel's List and beyond. And I love that because I'm a big nerd about having good systems! It saves you so much time."
Working in many different areas and roles has also required Rachel to be introspective on herself and her career, and says that the most important thing she has learned is to remain resilient with every changing situation.
"You just can't survive as a freelancer (or in media!) without resilience, because things are changing so much, all the time. And you've got to be able to yell 'Plot twist!' and figure out how to move on when a client drops you or runs out of work for you, or when an editor moves on."
"These things happen. Finding new clients, new editors, new income streams and new ways to maintain a steady cash flow is all just part of working in media and working for yourself."
Rachel even says that if she were to go back in time and give her younger self some advice about working in this industry she would say to learn to be adaptable, open to change, and to "never, ever stop learning."
The media landscape has changed exponentially since the introduction of the internet and has forced many journalists (of course including Rachel) to quickly adapt to the times.
"It's reshaped much of the media industry, had a huge impact on magazines and newspapers, and forced many thousands of journalists who built their careers in print to completely reinvent themselves."
When asked about her favourite part of her career so far, Rachel mentioned how fun it was working in entertainment as a younger journalist, and interviewing celebrities such as Rowan Atkinson, Helen Hunt, Lisa Kudrow, Powderfinger, and many more.
"I'll never forget chasing Alicia Keys around her hotel room with my dictaphone while she packed and I tried to get enough quotes for my piece before her limo arrived for the airport!"
"I love writing interview-led pieces the most, and finding the right people or experts to talk to can take an average story to something far more interesting and engaging."
Other memorable moments in Rachel's career include her earlier days as a travel writer and the many exciting escapades she found herself in.
"One experience I'll never forget was having to swim across a black, fast-flowing croc-infested river in Zambia to get to a natural pool at the top of Victoria Falls. Two young Zambian men half-dragged me through the really dangerous bits, one of them holding onto my plastic-wrapped camera on top of his head. The views were good (once I stopped hyperventilating)."
"I'll file that under The Things We Do For A Story!"
Rachel's pitching preferences:
While I cover lifestyle, business and personal finance the most, I'm also very much a generalist. I have a huge interest in sustainability, tech, careers and parenting. So I am open to hearing from PRs in those areas and hearing about interesting people who have a yarn I might be able to use in a story or build a story around.