Leonardo Puglisi, Chief Anchor & Managing Director at 6 News
By Nell O'Shea Carre
06 October, 2021
While presenting at the news desk of 6 News Leonardo Puglisi may have the polish of someone with years of media experience, but at 13 years old the young journalist's career is only just beginning.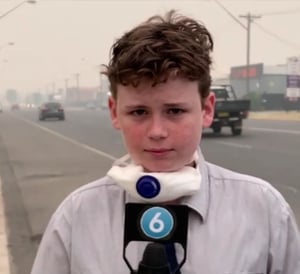 6 News is a proudly "independent and unbiased" media organisation founded by Leo last year, boasting 24 hour news coverage on social media and a YouTube bulletin of the biggest headlines of the day once a week on Sunday, and some mid-week short-form programs.

Leo says he has always been interested in the media, news and writing, and learnt some video editing as part of a year six school project. But his media work took a more serious focus at the start of last year when he realised there was an opportunity to cover "undoubtedly the biggest story of our lifetime" – the pandemic.

"I could have done this in another half-decade, but why wait? It's the biggest story of our lifetime, there is no other opportunity to report on a pandemic like this. So it's clearly worthwhile and I think our audience has been steadily growing," he says.

"It was just my direction, my parents aren't involved in anything like writing, that's all up to us. Literally all my dad does is help with camera work.

"We are as serious as any other network, any other media outlet. We've got our editorial policies, we tell our reporters about rules about defamation, we've got all of this."

Leo has had several appearances on mainstream media outlets discussing Channel 6, including interviewing and co-hosting a bulletin with Karl Stefanovic last year. He says several of the channel's current reporters were recruited after seeing these reports and reaching out to him to express interest in joining the team.
6 News is looking to expand to include more passionate young journalists. Their first recruit, Jack Hahn, is now working for Channel 9.
"Every reporter has their area of expertise but are also working across producing, social media, editing, filming," Leo says.

"But we are constantly improving, new microphones, new camera equipment, and we're even having to set up our home studios quite regularly because of the ongoing pandemic.

"With some of the most basic software, [I learnt those at school] when I put my hand up for some things like editing. Some of the earlier graphics were based on or even copied from some of the network ones, but we've developed our own style. A lot of it's down to chroma key and greenscreen effects, but we still do it in pretty basic software."

Leo says the team do deal with some patronising and condescending treatment occasionally because of the young age of the journalists.

"That's to be expected, and I think of myself as a pretty cheerful guy, so I come out not assuming they've got bad intentions or anything. I explain 'you know we're fully serious, here are some of the stories we've broken or been credited with in mainstream media, here's where you can check us out'. And 95 per cent of the time they're fine, most of them will come around to it.

"People in the media have all been really respectful, it's really just the social media you have to deal with.

"It's something to be expected, if you've got 18 year old journalists on the TV who are accused of being too young to be on TV, well they won't like me then! But oh well, it's generally positive."

When it comes to managing school while responding to the unrelenting news cycle, Leo says the workload is manageable thanks to preparation and support from the entire 6 News team.

With almost 6,000 YouTube subscribers and more than 7,000 followers on Twitter, it's clear that 6 News are hitting the mark with their audiences.

Leo credits part of this success with their progressive digital and social media strategies.

"I'm not one of these 'boo the mainstream media' kind of people, but it's clear that they're behind on going digital," he says.

"I think in the US a few of their local TV stations went digital first, they wanted their breaking news stories out online before TV, that's what our [Australian] stations probably should have been doing a while back. They haven't, that's probably not going to be good in the long term.

"Digital media is the way to go right now, let alone by the time I'm 18. So 6 News — it's not going anywhere anytime soon, I'll say that. We are a fully registered business name, we've got all the domains and social handles sorted out, so just keep your eye on 6 News, it's only going to get bigger and better."