How to choose a media contacts database for PR
By Nell O'Shea Carre
01 September, 2022
As a PR professional, maintaining your own updated list of relevant media contacts can be an extremely time consuming task, particularly for those supporting clients working in a number of different areas.
Subscribing to a media contacts database is therefore very beneficial. A media database is basically a large collection of names, contact details and other information for journalists, outlets and newsrooms, and other key media influencers.
But like most digital solutions, it can be overwhelming to choose between all the options out there.
To help, here's a list of a few important things to consider when choosing a media contacts database:
How data-rich is it?
One of the biggest keys to successfully pitching stories to the media is to make sure your pitches or press releases are targeted to the most relevant journalists. To do this, it's not enough to know the journalists' name and contact details. You also need to know their "beat" or areas of interest/relevance, and be able to search the database for keywords such as 'gardening', 'music', 'politics' or 'beauty' in order to find these relevant journalists. Knowing other factors such as the journalists' level of influence, work history and pitching preferences can also be enormously helpful to personalising your pitch and reaching the right audience.
How up-to-date is it?
There's nothing worse than spending time carefully putting together a list of contacts to send a press release to, then getting multiple email bounce backs after hitting send. To avoid this, you need to pick a database that is maintained and updated daily. Journalists move around a lot, and it's important that contact details and job titles are kept up to date so all your pitches are reaching the right people.
On average, the Medianet database receives around 2,500 updates from our researchers each week.
How many contacts does it have?
Sending your press release to more contacts does not always guarantee greater media pick-up. However, having a bigger pool to choose from will help you with targeting your list to the right contacts. For example, Medianet's database contains the contact details of over 12,500 media outlets and profiles of almost 26,000 individual journalists. Although there would never be a reason to send a release to all of these contacts, having a massive pool of options means that no matter the subject or focus of your pitch you will always be able to find a journalist or outlets who will be interested in your story.
How is the database maintained?
While a database could theoretically be maintained by AI, using one that is updated by human researchers using a number of different sources is essential to getting the most accurate information. Having direct contact and trusted relationships with the journalists and outlets themselves is particularly key to having rich, accurate data. This ensures that you are not merely accessing information that is already publicly shared and available, for example on Twitter.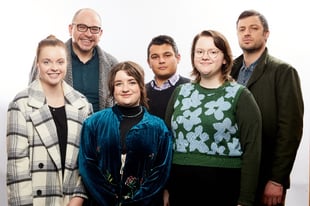 Medianet's team of Sydney and Melbourne based researchers.
Is it specific to your location?
While an international media database may appear to offer you more contacts, the chances are lots of international media publications or journalists won't be interested in a foreign story (or at the very least your pitch should be tailored to them specifically). It's much better to use a database with highly accurate, data rich information specific to your country.
Click here to access an Australian media contacts database.
How flexible and affordable is the pricing?
Within the PR industry, there is a large range in pitching needs depending on the size of different companies or number of clients. It's important then to make sure your database subscription is tailored to your specific needs, so that you're only paying for the services and features that you use. For example, a large PR company may need to export hundreds of journalist contacts a month in order to contact them using their own CMS. On the other hand, a small in-house PR team probably doesn't need this feature as they could just manually save the details of the specific journalists they want to target in their pitches.
Make sure to choose a media contacts database that has different plans to suit different company sizes and needs, with the flexibility to change these as your company or client base expands.
For more information on how to get the most out of a media contacts database visit our Knowledge Centre or reach us at team@medianet.com.au or 1300 616 813.