Interview with Jac Bowie, breakfast presenter at Pulse FM 94.7
16 May, 2018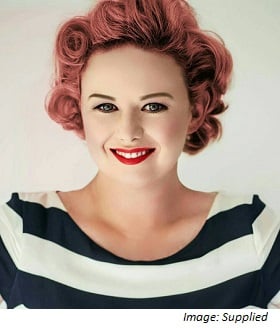 Jac Bowie is Australian radio presenter and self-made businesswoman. After Sir Richard Branson gave her some career advice in the early 2000s, Jac changed direction from her life as a flight attendant and spent the next 10 years producing world-class burlesque shows. In 2013, she created the fastest growing network of businesswomen in Australia, Business in Heels. What started as a small monthly event went on to franchise into 45 locations worldwide within 18 months. In late 2014, Jac decided to chase her childhood dream of working in radio and joined the team at MIX 104.9 on Drive. She's now hosting Friday breakfasts on 94.7 The Pulse and running two of her own businesses.
What are the keys to being a good presenter on air?
Listen back to your show and be critical, constantly look for opportunities to improve. In my first on-air role, the program director had zero time or interest to do airchecks, so I found it difficult to progress. Eventually, I sent them elsewhere, to a mentor at another network. It wasn't until I got some solid feedback I was actually able to learn and improve. Now I am constantly listening back to shows and looking for ways to improve.
You're CEO of two companies and host a breakfast show. How do you manage your time effectively?
By just doing breakfast one day a week!!
Returning to working for myself has been a joy, but yes it can be a juggling act. I own a wedding business and regional women's network, but am blessed with the most incredible operational team which really makes it all manageable. I also find by going to work (in a co-working space) 9am-3pm, instead of working from home, creates strict work boundaries and I am way more productive. I usually have weddings on Saturdays too – this gives me Sundays and most afternoons off.
It's been amazing joining Rob and Kinna on the That's Life breakfast show on 94.7 The Pulse. So many people told me I would be better suited to a team and it's been fantastic! I love being the funny sidekick and I'm having a ball! Saving up my fave content from the week is not a huge task – I am a news hound naturally – and according to the boys, give some colour to the AFL and politics…
What aspects of working in broadcast media do you enjoy the most?
As mentioned, I am a news hound naturally, so researching and creating content is a serious passion for me- but with my digital media / online marketing background, I also love finding new ways to share content, whether it's live streaming my on-air show on Periscope, podcasting, blogging and social media. I do miss that part of my last job at Grant Broadcasters, when I was the online content manager for VIC/SA I LOVED training announcers in blogging, social media, podcasting- my dream role would probably be that- a national role training announcers in digital.
For a press release to stand out to you, what does it need?
Find the angle most relevant to our audience!
What is the most memorable story you've reported on this year?
I've only been back on air a few weeks now, so have to go back to my Drive show last year, while trawling twitter I was the first in our network to pick up David Bowie's death, and subsequently announced it on air. I quickly turned my drive show into a series of Bowie hits and dedicated breaks, which were really well received. Mind you, being on air in Darwin you do get some memorable crocodile and UFO stories most weeks.