National Archives of Australia
Local Company Works With National Archives to Preserve Australia's History for the Future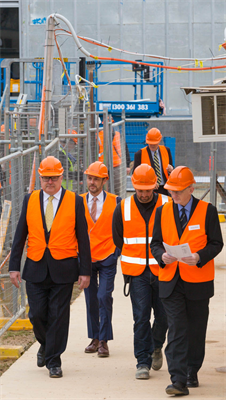 2 September 2016

LOCAL COMPANY WORKS WITH NATIONAL ARCHIVES TO PRESERVE AUSTRALIA'S HISTORY FOR THE FUTURE
The National Archives of Australia will shortly begin to move millions of Commonwealth records to the purpose-built National Archives Preservation Facility being constructed by Canberra-based developer Doma Group.
Despite preserving an increasing number of digital records, the Archives still has a significant volume of paper, audiovisual and other analogue items it must continue to store.
Attorney-General Senator the Hon George Brandis QC toured the site today with the Archives' Advisory Council members and Director-General David Fricker to view the progress of this key project.
Records kept by the Archives illustrate the history of the Commonwealth. The preservation and accessibility of these records underpin the nation's democratic progress and ensure public accountability. 'The environmentally designed facility is capable of housing 104 shelf kilometres of paper and 9.6 shelf kilometres of audiovisual records, together with 150 staff,' Doma Group General Manager of Development Gavin Edgar explained.
The facility will give the Archives room to move, containing a digital archive as well as space for tangible records. 'While we move records fairly frequently, the relocation of records to the National Archives Preservation Facility is the largest in our history. Between November 2016 and June 2017 we will be consolidating collections from three repositories. During this time, there will be some disruption to public access to records as we move and unpack the collection in its new home. We will endeavor to minimise any inconvenience throughout this relocation process,' said Archives' Director-General David Fricker.
In the 1970s, the Archives determined that purpose-built repositories were the first line of defence for the nation's heritage. 'We needed to construct a building that responded to the exacting brief of the Archives and we worked together to refine requirements into a functional building,' said Mr Edgar.
Completion of the 17,500 square metre facility is on track for February 2017, with Doma Group working towards a handover of the first separable portion in November 2016. The building will hold 25 per cent of the Archives' current collection and the new Canberra site has the ability for future expansion if required.
The National Archives Preservation Facility will be designed, built, furnished and maintained by The Doma Group and leased for 30 years by the Archives.
Media contacts:
Doma Group: Martina Males (02) 6163 4722
National Archives of Australia: Holly Pritchard (02) 6212 3413
865015