Daughter of UK hero wins 11th-hour exemption to attend mum's funeral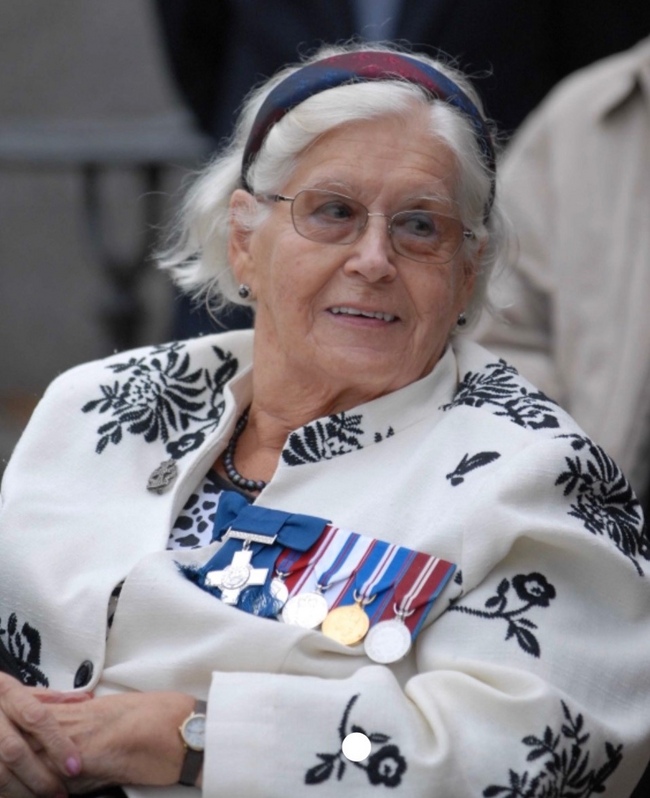 Released: 16 September, 2021
Daughter of UK hero wins 11th-hour exemption to attend mum's funeral
The Australian-based daughter of a UK hero who received the George Cross for saving the lives of two drowning boy scouts 70 years ago has thanked the Australian Federal Government for assisting her efforts to attend her hero mother's funeral.
Central coast resident Alison Phillips was seeking a travel exemption permit under COVID rules to fly to the UK tomorrow (September 17) following the passing of her mother, Margaret Purves (nee Vaughan), on Monday September 13.
The application was approved today by the Federal Department of Home Affairs (September 16).
Purves received the Albert Medal (later translated to the George Cross) after swimming through freezing seas in South Wales in 1949 to save boy scouts cut off from the mainland by a rising tide. The George Cross (GC) is the highest award bestowed by the British government for non-operational gallantry or gallantry not in the presence of an enemy.
Purves saved the scout leader and the boy he was helping; with both in serious difficulties. "Somehow, I managed to get them to hold on to the straps of my swimming costume, and we swam against the current to the nearest land point," she recalled.
She was just 14 at the time. A scout who made it to shore but went back to help save a friend, drowned.
Purves and John Davies were both awarded the Albert medal, Davies posthumously. Purves also received the Royal Humane Society's certificate for saving lives.
Lengthy obituaries on Purves appeared in leading UK newspapers The Times on Tuesday and The Telegraph on Wednesday.
King George VI presented the Albert Medal to then Margaret Vaughan (her married name is Purves) at Buckingham Palace in 1950, with Purves escorted to the function by the King's equerry and Princess Margaret's later beau Group Captain Peter Townsend. "There seemed to be hundreds of people in uniforms, but I was the only schoolgirl, and stood out like a sore thumb," Purves recalled.
After the investiture she was taken to meet the King. "His Majesty spoke to me and said to my parents that all girls called Margaret must have a wicked sense of humour," Purves said.
Purves was born Margaret Vaughan in Tremorfa, Cardiff, in 1934, the daughter of James Vaughan, a police sergeant, and his wife Dorothy (née Powditch).
In 1957 she was commissioned into the Queen Alexandra's Royal Army Nursing Corps, serving in Mauritius, Kenya and Germany. She gave up her commission in 1961, after marrying John Purves, a captain with the Royal Electrical and Mechanical Engineers.
She followed her husband on postings around the world, including Northern Ireland, Singapore, Canada and Belgium, and became editor of The Craftsman, his regiment's inhouse magazine.
They later settled in Bradford-on-Avon, where she held a Conservative seat on Wiltshire County council. She stood in the general election of 1997 for the seat of North Wiltshire for James Goldsmith's Referendum Party, losing to the Conservatives. Her husband died in 2007. Purves is survived by their two daughters: Alison, who runs a property business in Killcare on Australia's NSW central coast; and Rebecca, an economist who teaches in Spain; and their son James, who is the director of a company selling armour plating.
In 1971 all surviving holders of the Albert Medal were invited to exchange their decorations for the George Cross. Purves accepted, with The Queen personally awarding Purves the GC in a ceremony at Buckingham Palace. Purves became a dedicated committee member of the Victoria Cross and George Cross Association, taking part in the association's reunions.
"Everybody is on first-name terms, from the coal miner to the general," she said a few years ago of its members.
Her daughter Alison, who attended the 1971 investiture by the Queen with her mother, lodged the travel exemption application with the Department of Home Affairs after being informed of her 86- year-old mother's passing. Her flight is tentatively booked with Singapore Airlines tomorrow (September 17). Alison is an Australian resident, having moved here with husband James (now deceased). Her daughter Charlotte now lives in Australia and son Henry in UK.
Phillips's application for a travel exemption permit was backed by the chief executive of the UK's VC and GC Association Rebecca Maciejewska, based in Horse Guards, Whitehall. Maciejewska said Purves was an active member of the association and its only female member. She said the Queen as patron of the Association and The Prince of Wales have been informed of Purves's passing.
NOTE TO RECIPIENTS: If you would like further information on this press release, please contact Steven Andrew at Bid Media on 0418 618 321 or sandrew@bidmedia.com.au
Photographs: Margaret Purvis. Alison Phillips.
958375