Bettina Kaiser at Chrissie Cotter Gallery
Dead Nature: a reckoning in the face of the climate crisis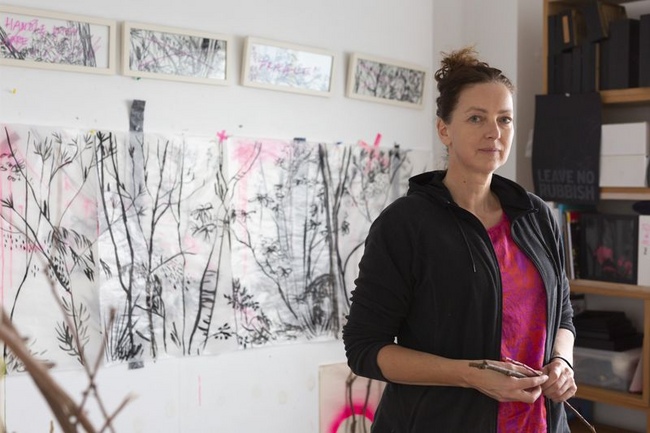 Natura Morta – An exhibition by Bettina Kaiser at Chrissie Cotter Gallery
Natura Morta, an exhibition of drawings, mixed media works and installations, explores aspects of humanity's relationship with nature and the climate crisis, and invites viewers to get active and collect waste in exchange for works on view.
"The climate future that we are facing, that our children will have to live through, scares me every day. My fear is real, it is big, and I cannot ignore that in my art," said artist Bettina Kaiser.
In Natura Morta (literally "Dead Nature" or "Still Life")
Fluoro colours warn us of danger

Animals, especially birds, play the role of messengers

Several works invite visitors to take action as a direct response
Included in the exhibition is the series Waste Life, still lifes of street rubbish, some of it picked up by crows (a sad daily sight on the school grounds near Kaiser's home).
Waste Life also invites the viewer to become involved: the smaller works won't be for sale but can be obtained by collecting waste from local streets or waterways and bringing it to the exhibition in exchange for an artwork.
"I hope with this exchange not only to get a few bags of rubbish off the streets, and hence out of our stormwater and rivers, but also to send people home with a memento of this small action that can be done daily," said Kaiser.
Kaiser's Risograph-printed Climate Emergency and Koalas Burning posters can also be taken free of charge, with the expectation that they will be displayed in local cafés or pasted publicly – again with the hope of initiating discussion and action.
Earlier this year Kaiser designed and illustrated a book by author Kate Liston-Mills, Dear Ibis. Liston-Mills' short stories are suffused with similar fears explored in Natura Morta, and they also include birds as messengers. There is a room where visitors can listen to recordings of some of the stories being read by the author.
Liston-Mills also wrote a mini-series of microfiction specifically for a small installation in the exhibition. Requiem for a Canary reflects on the little birds used in coalmines to alert miners to toxic gases. The birds' more sensitive lungs meant they would die before the humans. A dead bird indicated miners should leave immediately.
Natura Morta is open May 26 – June 6
Thursday and Friday 11am-2pm, Saturday and Sunday 11am-4pm, or by appointment
Chrissie Cotter Gallery, Pidcock Street, Camperdown (Sydney)

A selection of high-resolution images is available for download though Dropbox: https://tinyurl.com/sbz2ckb
About Bettina Kaiser
Artist and designer Bettina Kaiser was born in Hamburg, Germany. She has lived in Australia for over 20 years, currently in Sydney's Inner West with her husband and daughter. She loves being out in nature. She acknowledges that the climate emergency might not be solved by what Deputy Prime Minister Michael McCormack once described as "Inner-city raving lunatics" or a little art show, but she hopes that together people can at least try to do something about it.
Contact: Bettina Kaiser 0403 445251 or mail@bettinakaiser.com
Bettina Kaiser Instagram https://www.instagram.com/bettina_kaiser_art/
Chrissie Cotter Gallery https://www.innerwest.nsw.gov.au/live/living-arts/creative-spaces/chrissie-cotter-gallery
950039