Eagle Mountain Mining Limited
EM2 - Access Agreement Signed with Pima County Over Patented Gold-Copper Claims Owned by the County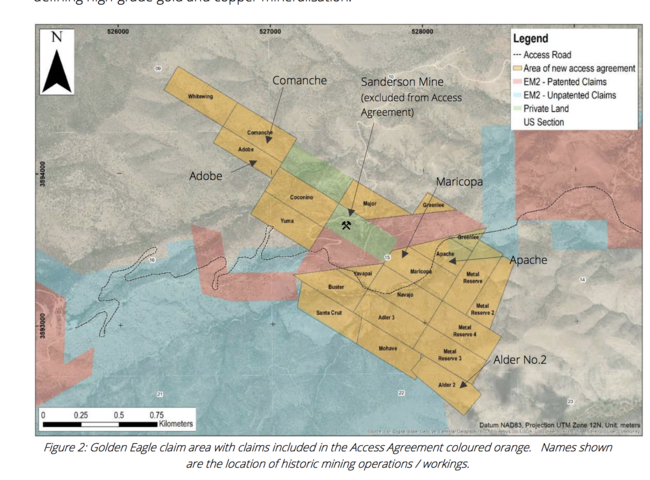 Highlights:
Access Agreement secured to facilitate low-disturbance exploration activities on patented claims held by Pima County near Oracle Ridge

"Golden Eagle" is a new prospective project area for gold-copper-silver mineralisation and covers Pima County patented claims as well as two claims held by the Company

The agreement also extends to Pima County patented claims within the OREX project area which are prospective for skarn-hosted copper mineralisation

Multiple historical gold-copper mines within the Golden Eagle trend suggest large scale prospectivity

Field activities to commence in March 2021 with diamond drilling of gold targets planned for late Q2 2020
Eagle Mountain Mining Limited (ASX:EM2) ("Eagle Mountain" or the "Company") is pleased to announce that Wedgetail Operations LLC ("Wedgetail") owner of the Oracle Ridge Copper Project (80% owned by Eagle Mountain) has secured access to an area the Company has labelled "Golden Eagle" which includes multiple historic gold-copper mines along a north west to south east trend. The area is less than three kilometres from the Oracle Ridge mine. In addition to obtaining access to "Golden Eagle", Wedgetail has also secured access to all Pima County patented claims that fall within the OREX unpatented claim area.
Access to both these prospective claims, which are held by the local Pima County, will facilitate initial exploration. The claims included in the access agreement are classified as "patented" which cover both surface and mineral rights and generally require fewer permits for both exploration drilling and mining operations. Figure 1 shows the location of these areas in relation to existing claims held by Wedgetail.
Attached - Fig 1 , Fig 2
Jane Morgan
Director
Investor and Media Relations Consultants
www.janemorganmanagement.com.au
P: + 61 (0) 405 555 618 E: jm@janemorganmanagement.com.au
A: Level 1, 37 Bligh Street, Sydney NSW 2000
945888